Dark chocolate pistachio panna cotta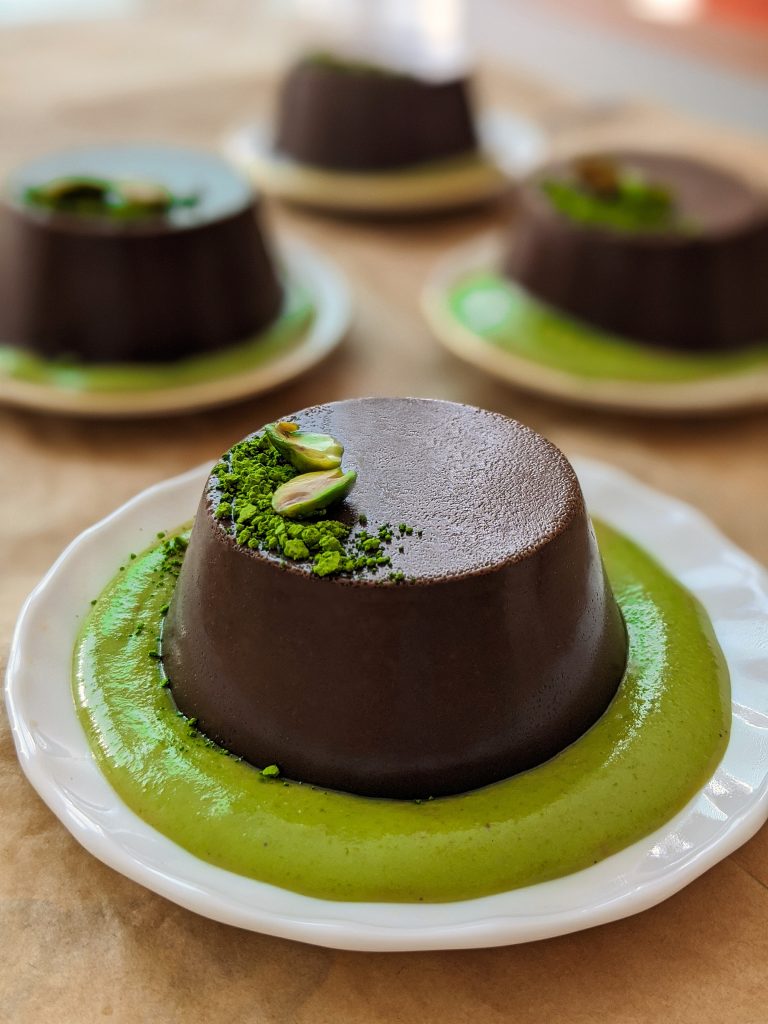 This is another one in the line of panna cottas that I made these days. I decided to make some improvements and use some easy to come by ingredients, and I came up with a delicious dark chocolate pistachio panna cotta.
Since I really loved the pistachio sauce I used for my last recipe, I had to incorporate it into a few more desserts. The dark chocolate panna cotta is pretty good on it's own, but there is something about the pistachio flavor that makes it even better.
They are vegan, creamy, sweet, slightly bitter and perfect for all dark chocolate lovers. Aside from being super delicious, this recipe is also super easy to make. These measurements are enough for 6 panna cottas.
Some health benefits
You might not think that there are any health benefits to be had from eating dessert, but this panna cotta has a few ingredients worth mentioning. Pistachios are high in protein, fiber, and antioxidants. They also boast several other important nutrients, including vitamin B6 and potassium. They contain fewer calories and more protein than most other nuts. Also, their essential amino acid content is higher than any other nut.
Eating pistachio nuts may aid weight loss. Studies show that eating pistachios may help lower blood cholesterol. It may also lower blood pressure more than other nuts. They may play an important role in promoting blood vessel health. That's because they are rich in L-arginine, which, when converted into nitric oxide, helps dilate your blood vessels.
Pistachios have a low glycemic index, which might promote lower blood sugar levels.
Quality dark chocolate is rich in fiber, iron, magnesium, copper, manganese and a few other minerals. Cocoa and dark chocolate have a wide variety of powerful antioxidants. In fact, they have way more than most other foods. The bioactive compounds in cocoa may improve blood flow in the arteries and cause a small but statistically significant decrease in blood pressure.
I think these are some pretty good reasons to incorporate these ingredients into your meal plan. And if you need a good idea, I suggest you begin with this delicious panna cotta.
A piece of advice
There are a few things that I need to mention about the sauce. If you can, try to find raw pistachios. I couldn't find any so I bought the roasted ones. Remove the shells and then weigh them. Soak them in water for about an hour. After that you will have to remove the skin (the darker roasted layer) from each one of them.
You don't have to do that, but if you want to get the pretty green color, this is the way. You can even add a pinch of matcha if you have some. I know this all seems very time consuming, but trust me, it is not as difficult as it seems. Besides, the panna cottas have to spend the night in the fridge, so you will have plenty of time to make the sauce.
But I do recommend that you serve the sauce while it is fresh.
It is best to use silicone moulds for cakes or panna cottas. This way you can easily pop them out when they are done. As for the chocolate, you can use any type or brand that you want, but I would not recommend any chocolate bar with more than 70% of cocoa. The panna cotta may end up being too bitter. For that matter, you don't even have to use dark chocolate if you don't like it. Just use your favorite and you'll be fine.
For the decoration I used a few pistachios and a little bit of matcha. Also, if the color of your sauce does not turn out as green as mine, you can add a bit of matcha to improve it.
Dark chocolate pistachio panna cotta
Ingredients
400 ml of full fat coconut milk

90 g of dark chocolate

30 g of cocoa powder

120 g of sugar

1 + 1/2 tsp of agar-agar


60 g of pistachios

70 ml of maple syrup

60 ml of soy cooking cream
Directions
Put milk and sugar in a saucepan and heat over medium heat. Add 5 tablespoons of water to the cocoa powder and mix until all the lumps are broken. Pour the cocoa powder into the saucepan and mix well.
Add the chocolate to the mix and stir until it melts completely. Put agar-agar in a glass with a little water and mix well. Add that to the mixture and bring it to boil on medium heat. Let it boil for 2 minutes.
Stir the mixture well, pour into the molds and refrigerate overnight. Before serving, prepare the pistachio sauce.
If you can't find raw pistachios, take the roasted ones, remove the shells and soak them in water for 1 hour. Drain them and remove the dark top layer (skin) from pistachios. Put them in a blender along with cooking cream and maple syrup. Blend until you get a smooth green texture. Taste the sauce to check the sweetness.
Serve the panna cottas with fresh sauce.
If you liked this recipe, make sure you check out my other recipes like:
– raspberry panna cotta in pistachio sauce
Feel free to tell me what you think about this in the comments below, or send me the pictures of your own dark chocolate and pistachio panna cotta. If you did something differently, I would also like to hear that, I'd love to see the things you come up with.
P.S. for more recipes like this and a bunch of other stuff, follow me on instagram, @margo_drobi.
Also, I recently started a Patreon page, where you can subscribe and help me create more/better content. In return, you will get an exclusive piece of content (recipe) each month. My plan is to increase the amount of that content if I gain a few subscribers. If you are interested and you want to find out more, I will leave the link to my Patreon right – here.