Vegan jam cake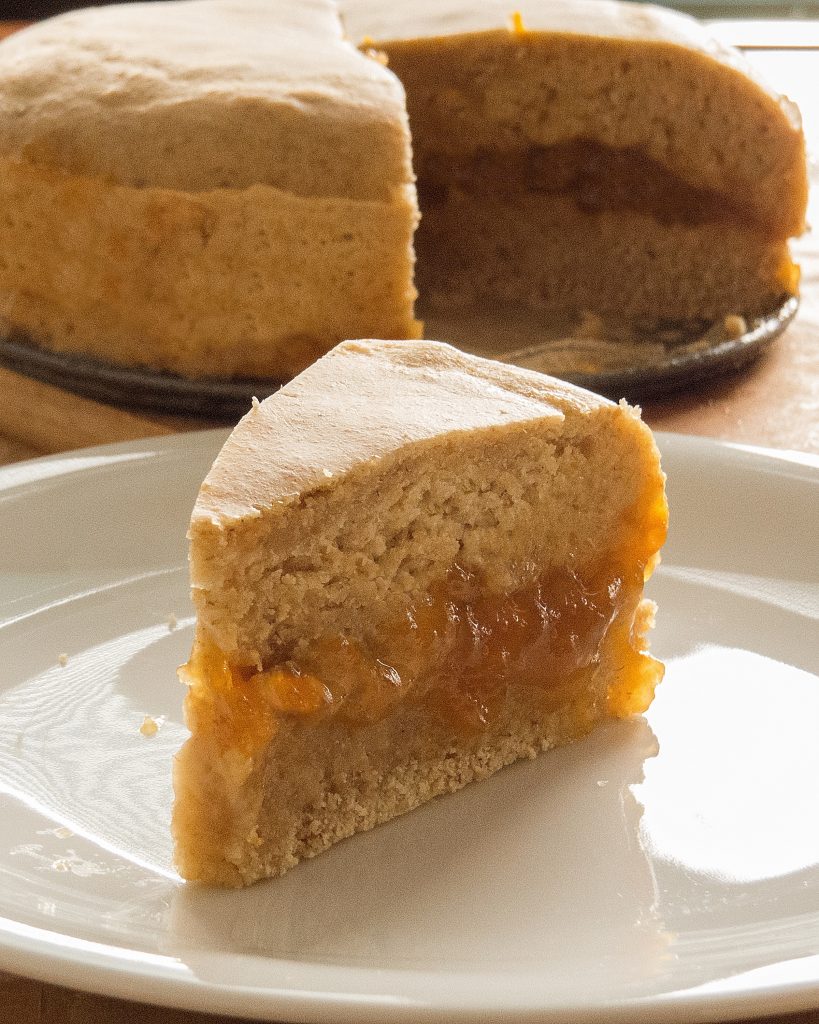 Today I am writing about a cake that I made a bunch of times. Vegan jam cake is my favorite one to make randomly, when there is no special occasion. There are times you just want to bake an easy, delicious cake and not spend any time decorating it. And this cake is perfect for such instances.
I have served this dessert to multiple friends and family members, and the reactions were always the same. It looks very plain, so everyone is surprised by how good it tastes. My mom even ate it for breakfast several times (she said it's fitting, if that's what you're into).
This vegan jam cake does not contain a lot of refined sugar in the batter, which is also great. I also think you can replace sugar with Xylitol and lower the sugar intake that way. Tiger nut flour is something that I used to see at the supermarket and always wondered how it's used. Turns out you can incorporate it in a lot of cakes and even cereal. There are brands of tiger nut flour mixed with sugar, so maybe that's something you should pay attention to (if you excluded sugar from your diet).
Aside from being very delicious, this cake can also be very good for you, as I recently found out. You might not think that you can get a lot out of eating a cake. But this tiger nut flour seems to be very good for your health. So I just wrote those things down so you can decide if it's worth the purchase.
Some health benefits
Tiger nuts are rich in fiber, vitamins, minerals and other beneficial plant compounds. Germinating or roasting tiger nuts prior to eating them can boost their antioxidant levels and improve your body's ability to absorb its nutrients.
They are a good source of insoluble fiber, which can prevent constipation and help your digestion run smoothly. Add them to your diet gradually to avoid unpleasant gas or bloating. Tiger nuts are also rich in arginine, which can contribute to lower blood sugar levels. They also contain compounds that may reduce how much sugar is absorbed in your gut after a carb-rich meal.
They are rich in heart-healthy fats. They may improve vein and artery flexibility and blood circulation, which may reduce your risk of heart disease. Tiger nuts may contribute to a stronger immune system by fighting infections, including those from antibiotic-resistant bacteria. However, more research is still required on that subject.
I will admit that I have only used these for this recipe, but after doing my research I think I might consider more ways to incorporate these into my diet. As I already mentioned, adding them to my cereal might be an option.
A piece of advice
Learning from your own mistakes is okay when it comes to cooking, but why learn from yours when you can learn from mine. I am going to tell you what I did wrong at first so you don't make the same mistake that I did.
The first time I made this vegan jam cake I did not completely close the edge with the top layer of batter, so the jam started leaking out while the cake was in the oven. So my advice is – be careful with that. When you spread the jam on top of the bottom layer make sure you don't spread it all over. Leave a bit of space at the edge.
You can also make this cake gluten free by replacing all purpose flour with gluten free flour of your choosing. Instead of soy milk you can use any other plant based milk. I used apricot jam for the filling, which is my favorite, but again, that is your choice to make. I think that I will try this recipe with raspberry jam soon.
To check if your cake is done, you can use the toothpick method. These measurements make for a small cake, so if you want a big one I suggest you double them.
Ingredients
210 g of flour
75 g of ground blanched almonds
75 g of tiger nut flour
15 g of coconut oil (melted but cold)
60 g of sugar
280 ml of soy milk
300 g of jam of your choice
1 tbsp of baking powder
1 tbsp of apple cider vinegar
2 pinches of baking soda
a splash of vanilla extract
Instructions
Put ground blanched almonds, sugar and coconut oil in a deep bowl and mix well. Add soy milk gradually while mixing.
Add all other ingredients (except for the jam) to the bowl and stir until a dough forms. Cover the bottom of the baking tray with baking paper and spray with non-stick spray. Take one third of the dough and spread it evenly in the bottom of the tray.
Then spread the jam on top of the batter (except at the edge so it doesn't leak out during baking). Spread the rest of the cake batter evenly on the surface. Make sure you close the edge with the top layer. Bake at 165 degrees Celsius for about 50 minutes.
Allow to cool completely before cutting.
If you liked this recipe, make sure you check out my other recipes like:
Feel free to tell me what you think about this in the comments below, or send me the pictures of your own vegan jam cake. If you did something differently, I would also like to hear that, I'd love to see the things you come up with.
P.S. for more recipes like this and a bunch of other stuff, follow me on instagram, @margo_drobi.
Also, I recently started a Patreon page, where you can subscribe and help me create more/better content. In return, you will get an exclusive piece of content (recipe) each month. My plan is to increase the amount of that content if I gain a few subscribers. If you are interested and you want to find out more, I will leave the link to my Patreon right – here.