Vegan cashew cake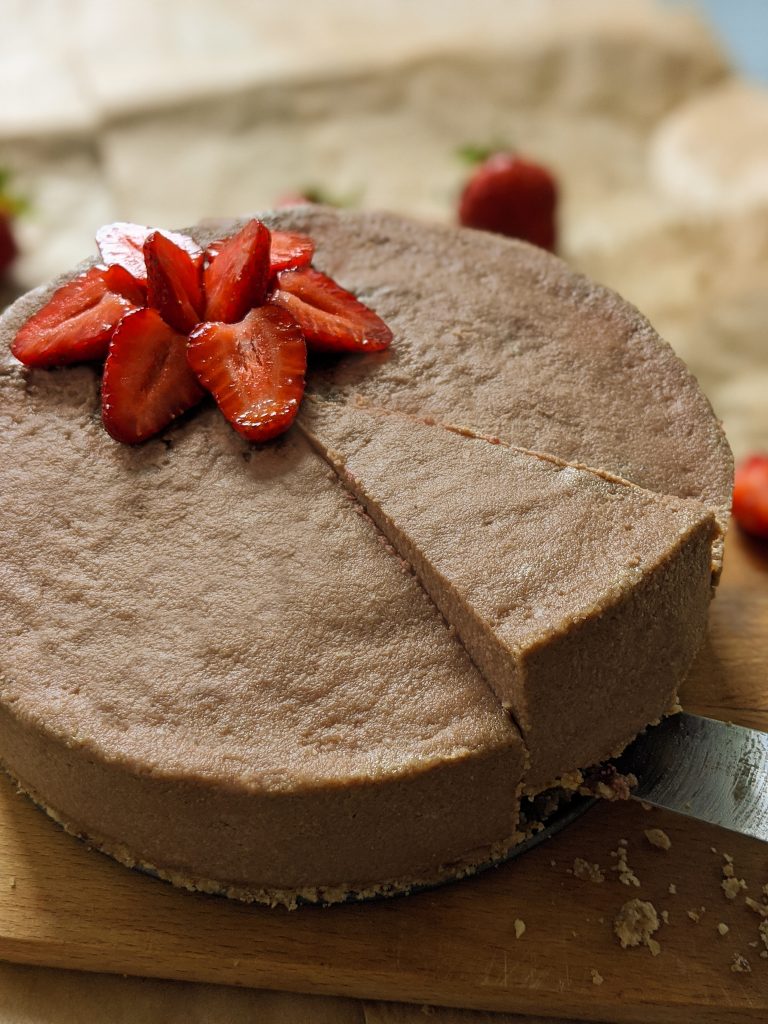 This is the first cake I made when I first started getting into vegan cooking, and to this day it's my favorite one. And I believe this simple vegan cashew cake will win you over as well. It is delicious, creamy, refined sugar free, and gluten free.
Since this was one of the first things I ever made myself, I wanted to let other people try it just to get some feedback. So far, everyone loved it. It is kind of similar to my hazelnut cheesecakes, but way easier to make. These measurements make for a small cake, but have in mind that it is very satiating. But in any case, you can increase the measurements for a bigger one.
I love this recipe for multiple reasons, it being absolutely delicious is just one of them. Since there is no refined sugar or flour in it, I feel better about eating this than any other dessert. It contains a lot of nuts, which are very good for you. If you are not allergic to them, you should consider increasing the intake of these, especially if you are vegan.
Some health benefits
In case you are not allergic to nuts, and decide to make this lovely vegan cashew cake, I will mention some cool facts about cashews (which are the main part of this dessert) that might interest you. I have noticed the trend of making vegan cheesecakes and cakes in general with no cashews, mainly because they can be a bit pricey, but there are a few good reasons you might want to treat yourself with raw cashews, cashew cakes or sauces every once in a while.
Many studies show that nut intake has a cholesterol-lowering effect, and there is emerging evidence of beneficial effects on oxidative stress, inflammation, and vascular reactivity. Cashews help lower LDL and increase the carrying capacity for HDL. They are protein rich and can help you lose weight.
Eating cashews can boost your immune system and lower the risk of gallstones. They are also rich in essential minerals, including copper, calcium, magnesium, iron, phosphorus, potassium, and zinc. This also means that they are super beneficial for your skin and hair.
Cashews contain nutrients that most people tend to forget about when they first start a vegan diet, but you really need those for your body to stay healthy, so make sure you incorporate them (and other nuts) in your meal plan (cake or no).
Luckily, there are a bunch of good and interesting recipes online that will help you do that.
A piece of advice
There are not a lot of things I can say here, mainly because this recipe is super easy. So I will only mention a few basic things that might be helpful if you are a beginner.
First of all, it is important to soak your cashews in water before using them. Soak them for at least 6 hours. This will give them a creamy texture when you blend them with the rest of the ingredients.
Now, I know that pecan nuts can be a bit on the pricey side, so if you want you can swap them for something different. Maybe hazelnuts, or some additional almonds. And when you blend them, make sure there are no big chunks left, only flour.
I used that cake mold that you can remove the upper part from, so if you own one, it will come in handy. And finally, when you take your vegan cashew cake out of the freezer, make sure you let it sit in the fridge for at least an hour before serving. That will make sure it is soft and easy to cut. I did not put a lot of effort into decorating it, but you can if you want to.
And if you choose to do so, do not hesitate to send me a picture, I need some ideas too.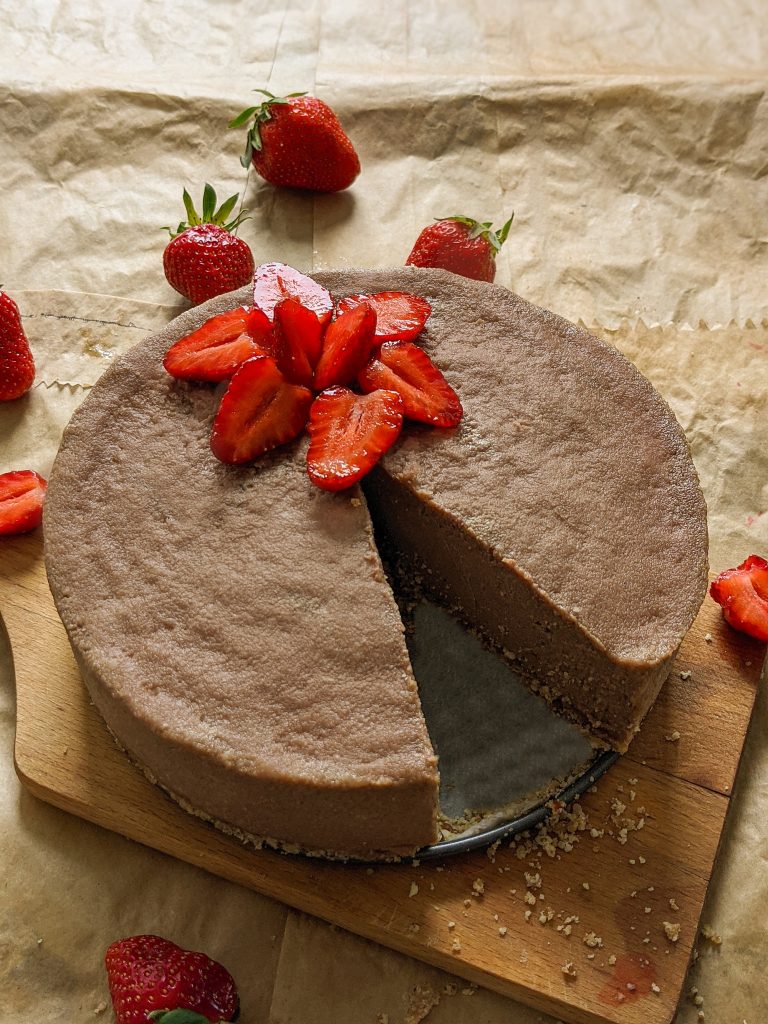 Ingredients
For the cream:
200 g of cashews
160 g of maple syrup
20 g of lemon juice
10 g of desiccated coconut
6 tbsp of coconut oil
3 tbsp of vegan butter (or cocoa butter)
3 tbsp of cocoa powder
1/2 tsp of vanilla powder
For the crust:
140 g of almonds
40 g of pecan nuts
35g of coconut flour
3 tbsp of maple syrup
Instructions
Cashews can be soaked in water up to 24 hours before use (or at least for 6 hours).
Put the almonds and pecan nuts in the blender, blend them until you get almond/pecan flour. Add the other ingredients for the crust and blend again. In a deep cake mold (about 20 cm in diameter), place the non- stick baking paper and press the crust with your fingers to the bottom evenly.
Drain the cashews. Put them in a blender with all the other cream ingredients and blend until you get a creamy texture. Pour it on top of the crust and place it in the freezer for at least 6 hours, ideally overnight.
Take the cake out of the freezer 1 hour before serving.
If you liked this recipe, make sure you check out my other recipes like:
– vegan red velvet cheesecakes
Feel free to tell me what you think about this in the comments below, or send me the pictures of your own vegan cashew cake. If you did something differently, I would also like to hear that, I'd love to see the things you come up with.
P.S. for more recipes like this and a bunch of other stuff, follow me on instagram, @margo_drobi.
Also, I recently started a Patreon page, where you can subscribe and help me create more/better content. In return, you will get an exclusive piece of content (recipe) each month. My plan is to increase the amount of that content if I gain a few subscribers. If you are interested and you want to find out more, I will leave the link to my Patreon right – here.