Chunky Monkey muffins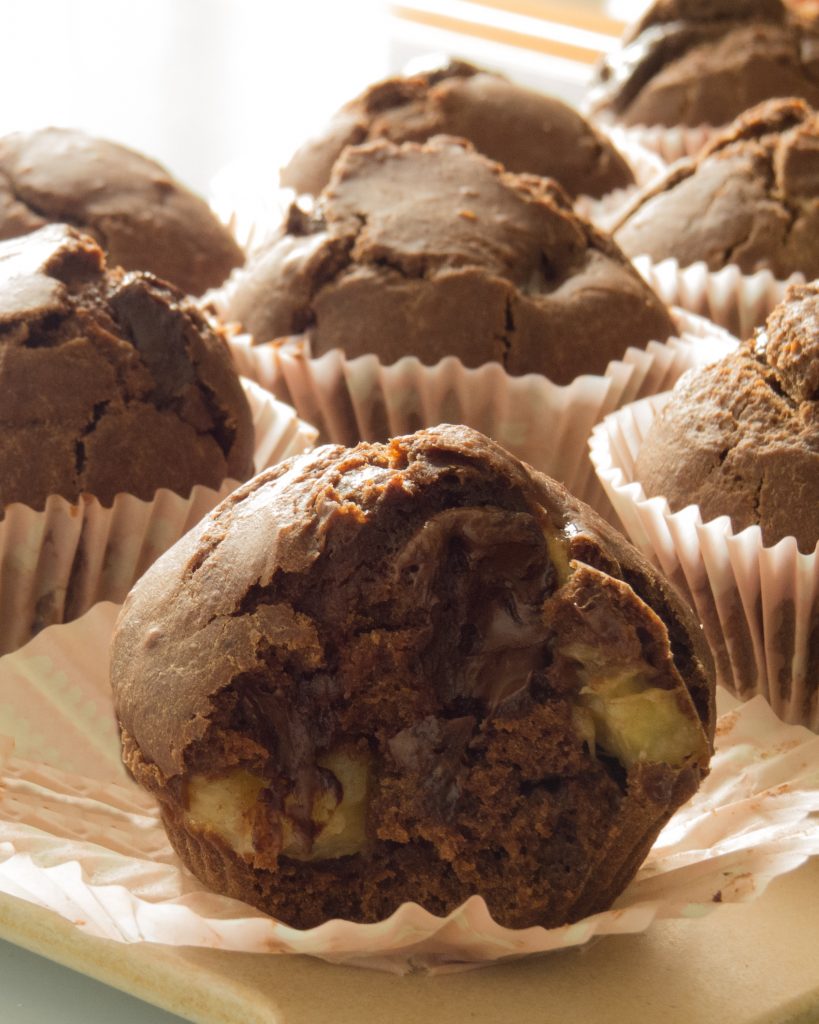 There are a few recipes that I know everyone is going to love, and I make them every time when I cook for picky eaters. One of those is the recipe for vegan chunky monkey muffins, my go to muffin recipe. It's one of those things that both vegans and non-vegans like. So if you need a recipe to impress kids, picky eaters, or when cooking for new people, you're reading the right article.
The chocolate and banana combination was always my favorite, but these muffins somehow make that combo way better. The dough is chocolate, and the banana and melted chocolate chunks on the inside make them absolutely incredible. The kids love them and they are great for any occasion. And the good news is, they are very easy to make!
It is very similar to a classic vegan muffin recipe, the only differences are that you add apple sauce (which is a popular egg replacement for vegans) and coconut oil. And you don't need apple cider vinegar or lemon juice. I usually point out all of the healthy ingredients in a recipe, which there are not plenty of in this one, if you count out the bananas. The healthy thing about it is that it is vegan, which is enough for me. Besides, I don't have to have them every day, so I'm fine with the amount of sugar that these muffins require.
So today I am going to skip the health benefits section and go straight to the point. But even though it's an easy recipe, I would still like to share some tips with you. I think that would be especially useful for beginners.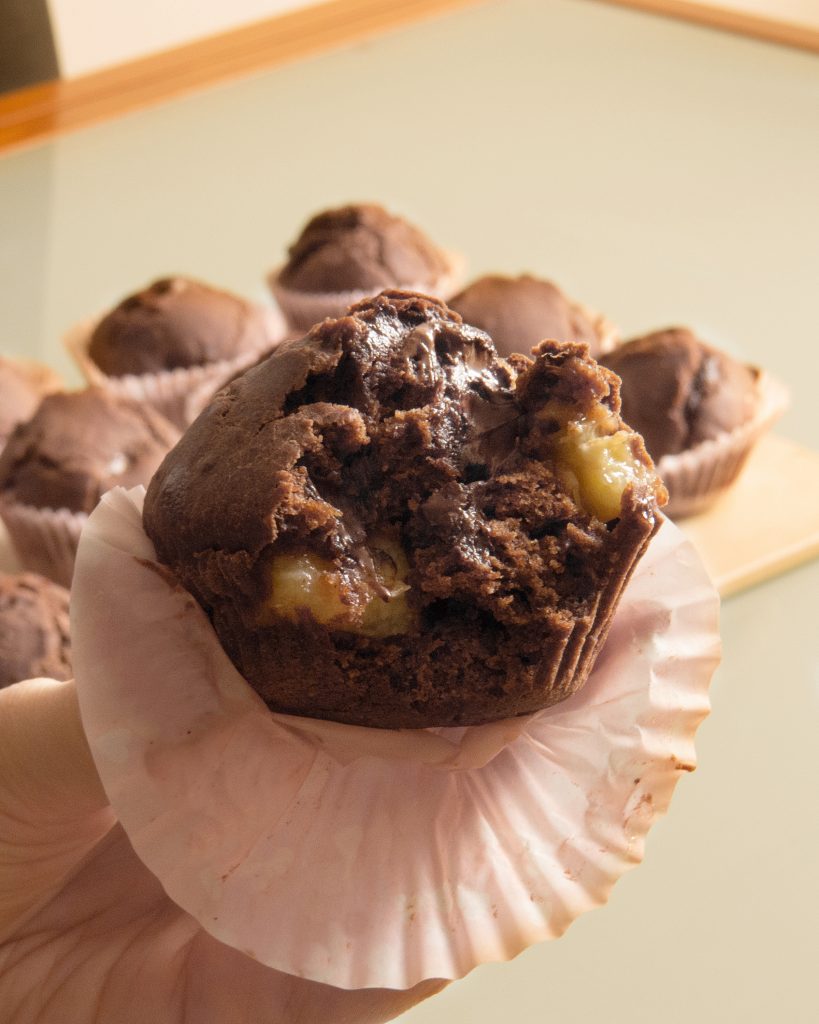 A piece of advice
When I first started thinking about this chunky monkey muffins recipe, I figured it would be super complicated, but I was so wrong. These days I literally whip them up in a few minutes. It is really easy and anyone can do it.
First of all, you don't have to use almond milk, and plant based milk will work for this one. Another thing worth mentioning is something very basic, but just in case you are a beginner, it might help you out. Make sure you grease the paper molds before you start pouring the dough in them. The fastest way to do this is to use non-stick spray.
You can also use regular oil but that might take a lot of time. This will prevent the muffins from sticking to the paper and they will preserve a nice shape when you remove the molds.
Also, when you add wet ingredients to the dry ones, make sure you do not overmix the dough (do not use a mixer!). If you read some of my previous baking recipes you might know this, but in case you are new, I would just like to mention that. If you mix too much you might end up with a way less fluffy dough, since it will have some trouble to rise in the oven.
So it is better to just combine the ingredients with a wooden spoon, and if there are some lumps left in the batter, don't worry too much about them.
You can also leave out the cocoa powder if you don't have it, but in my opinion, the chocolate dough is way better. I would also suggest serving these while they are warm, since the chocolate on the inside will melt very nicely.
And that was all of the advice for today. The gyms have opened once again in my town so I have gone back to working out. It is still a bit weird, and it is hard to feel good about doing that, because there is still this atmosphere of paranoia. I am still trying to be as careful as I can, even though we had it better than some countries in these past two months. And I am also starting to build up some hope that the summer won't be as lame as I thought it would be. Fingers crossed.
Now I'm going to leave you this delightful chunky monkey muffins recipe here, so you too have something to sweat off in the gym. Bon appétit!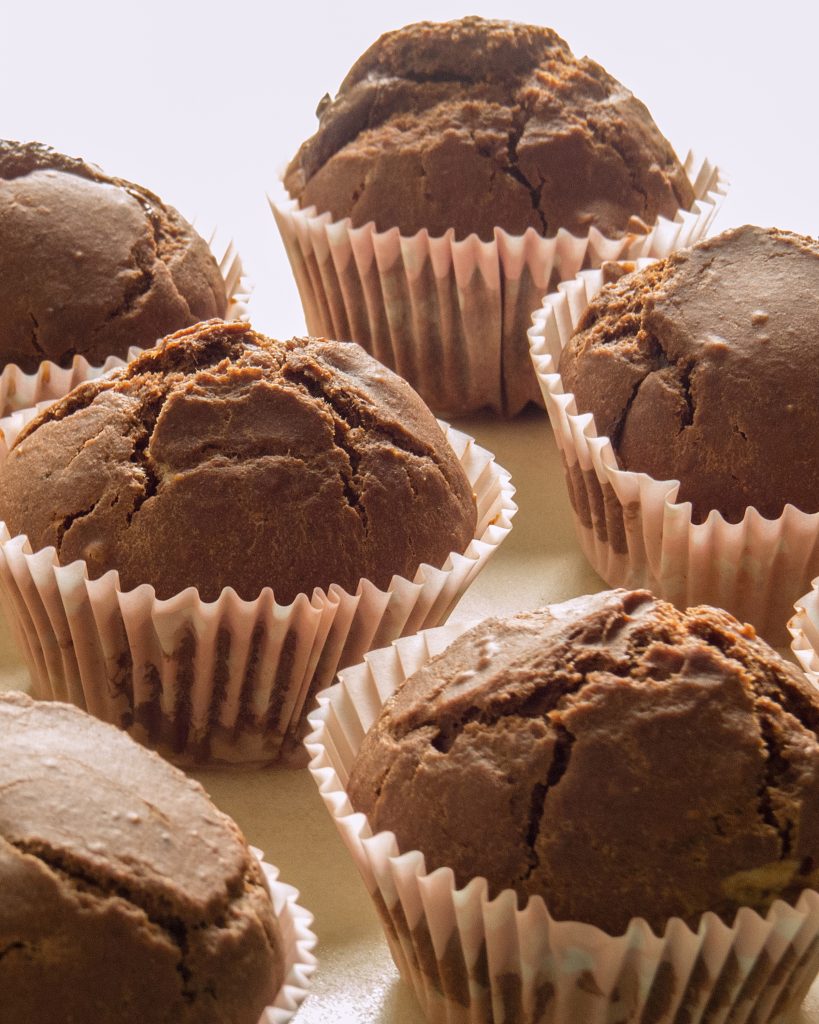 Ingredients
320 g of flour
2 tsp of baking powder
40 g of cocoa powder
100 g of sugar
1 tsp vanilla extract
70 g of apple sauce
1 tbsp of coconut oil
250 ml of almond milk (or any other plant based milk)
2 bananas
80 g of dark vegan chocolate
Instructions
Put flour, sugar, baking powder and cocoa powder in a bowl. Mix well and add all liquid ingredients.
Mix the dough until the ingredients are only combined (do not overdo it). Cut the chocolate and bananas into small chunks. Add small banana pieces and dark chocolate chunks to the dough and mix again.
Put paper molds for muffins in the muffin tray and spray them with non-stick spray. Pour the dough into the molds. Bake the chunky monkey muffins in the oven for 20 minutes at 180 degrees Celsius.
Serve them while they are warm.
If you liked this recipe, make sure you check out my other recipes like:
Feel free to tell me what you think about this in the comments below, or send me the pictures of your own chunky monkey muffins. If you did something differently, I would also like to hear that, I'd love to see the things you come up with.
P.S. for more recipes like this and bunch of other stuff, follow me on instagram, @margo_drobi.
Also, I recently started a Patreon page, where you can subscribe and help me create more/better content. In return, you will get an exclusive piece of content (recipe) each month. My plan is to increase the amount of that content if I gain a few subscribers. If you are interested and you want to find out more, I will leave the link to my Patreon right – here.