Three ingredient blondies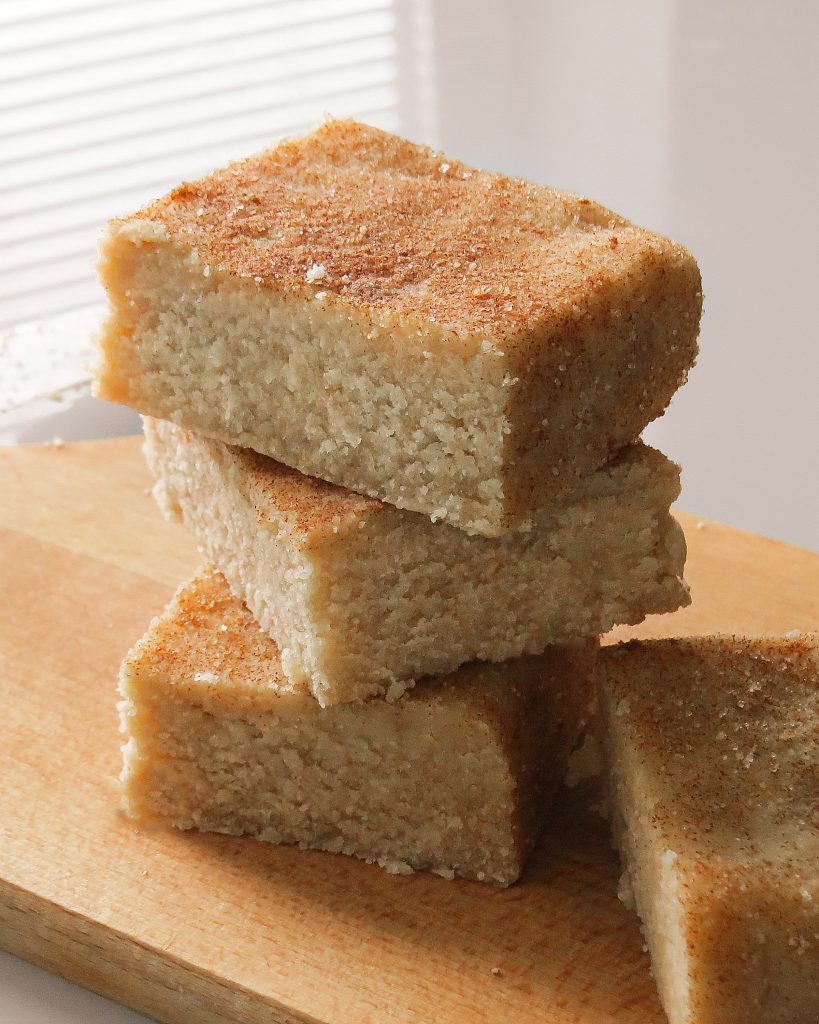 This is by far the easiest thing I have ever made. So easy that I even feel weird for writing it down as a recipe, but since it is so good, I figured I had to share it. These juicy three ingredient blondies are a perfect thing to mix up when you're runing short on time or money (which is very often in my case :')). But even if you have all the time in the world, you will not want to miss out on them.
My kitchen is always full of leftover flours, sauces, spices and everything else. I use them once or twice for a recipe or two and then don't know what to do with them. For example, I used coconut flour and apple sauce for a few lovely cakes which I am going to write about soon. So every once in a while I take a look at what I have and try to think of a way to utilize these ingredients.
And find a way I did, and today I am going to share my excitement with you. Coconut flour was never my first choice when it comes to cake recipes, but in some instances, like this one, I find it to be perfect, and there's no need to swap it for a more expensive flour (like almond flour), which I have done in the past. You may find that it is a bit dry, but apple sauce makes these blondies super juicy.
Sugar is also not my first choice when I make desserts, I always try to swap it for a different sweetner, like maple syrup or even dates. It is not the healthiest thing in the world so I try to avoid it, but I think that every now and then, a bit of sugar won't cause a lot of harm.
I never tried a different version of three ingredient blondies, but if you tend to avoid refined sugar, I think that you can get similar results by using a bit more coconut flour and maple syrup. Xylitol should also work fine. People are using it in cakes as a sweetner, and I recently noticed it on the shelves of many supermarkets.
My goal was to make a cake with the simple cheap ingredients that I already had, so I didn't run out to buy this.
Some health benefits
On the bright side, these three ingredient blondies contain other ingredients that can be very good for you. For example, coconut flour. Coconut flour is a unique alternative to wheat flour. It contains no gluten, making it an option for people with certain conditions, such as celiac disease, wheat allergy, or non-celiac gluten sensitivity. In addition to being very rich in fiber, coconut flour provides medium-chain triglycerides (MCTs) and plant-based iron.
MCTs are a type of fat linked to several benefits, such as weight loss, protection against bacteria and viruses, and enhanced brain and heart health. Foods rich in fiber help regulate blood sugar levels by slowing down the speed at which sugar enters your bloodstream.
It also ranks low on the glycemic index, meaning that breads and baked goods made from it are less likely to spike blood sugar levels.
Additionally, coconut flour boasts small amounts of soluble and other fermentable fibers, which feed the beneficial bacteria in your gut.
In turn, these bacteria produce short-chain fatty acids like acetate, propionate, and butyrate, all of which nourish your gut cells. Research shows that consuming 15–25 grams of coconut fiber daily may help lower total blood cholesterol levels by 11%, LDL cholesterol by 9%, and blood triglycerides by up to 22%.
Coconut flour provides lauric acid, a type of fat thought to help kill the bacteria responsible for plaque buildup in your arteries. This plaque is associated with heart disease.
Cinnamon is also pretty cool. It is loaded with powerful antioxidants, such as polyphenols. It helps your body fight infections and repair tissue damage. Cinnamon has been linked to a reduced risk of heart disease, the world's most common cause of premature death. It can dramatically reduce insulin resistance, helping this hormone to do its job. Apart from the beneficial effects on insulin resistance, it can lower blood sugar by several other mechanisms.
And these are only a few great health benefits of cinnamon, if I was to write everything down in detail, this post would be super long. So in conclusion, aside from these ingredients being very delicious, you might want to include them in your diet because they can be very good for you. Luckily, there are a ton of recipes out there that utilize these two, but if you don't want to get creative with them, or you don't have a lot of time, you can simply sprinke them on your morning cereal.
Since this is so easy to make, today I don't have any additional advice or tips. I hope you will enjoy these vegan, juicy three ingredient blondies as much as I did.
Ingredients
70 g of coconut flour
95 g of apple sauce
70 g of sugar
cinnamon
Instructions
Mix coconut flour and sugar in a bowl. Add apple sauce to the bowl and mix with a spoon until a thick dough forms.
Put the dough in a tray lined with parchment paper, press it down with your hands so you get a smooth top.
Dust the cake with cinnamon and sugar (as much as you want).
Leave in the fridge for an hour. Then take it out, cut it up in squares and serve!
If you liked this recipe, make sure you check out my other recipes like:
– vegan avocado and green tea truffles
Feel free to tell me what you think about this in the comments below, or send me the pictures of your own vegan three ingredient blondies. If you did something differently, I would also like to hear that, I'd love to see the things you come up with.
P.S. for more recipes like this and bunch of other stuff, follow me on instagram, @margo_drobi.