Strawberry fudge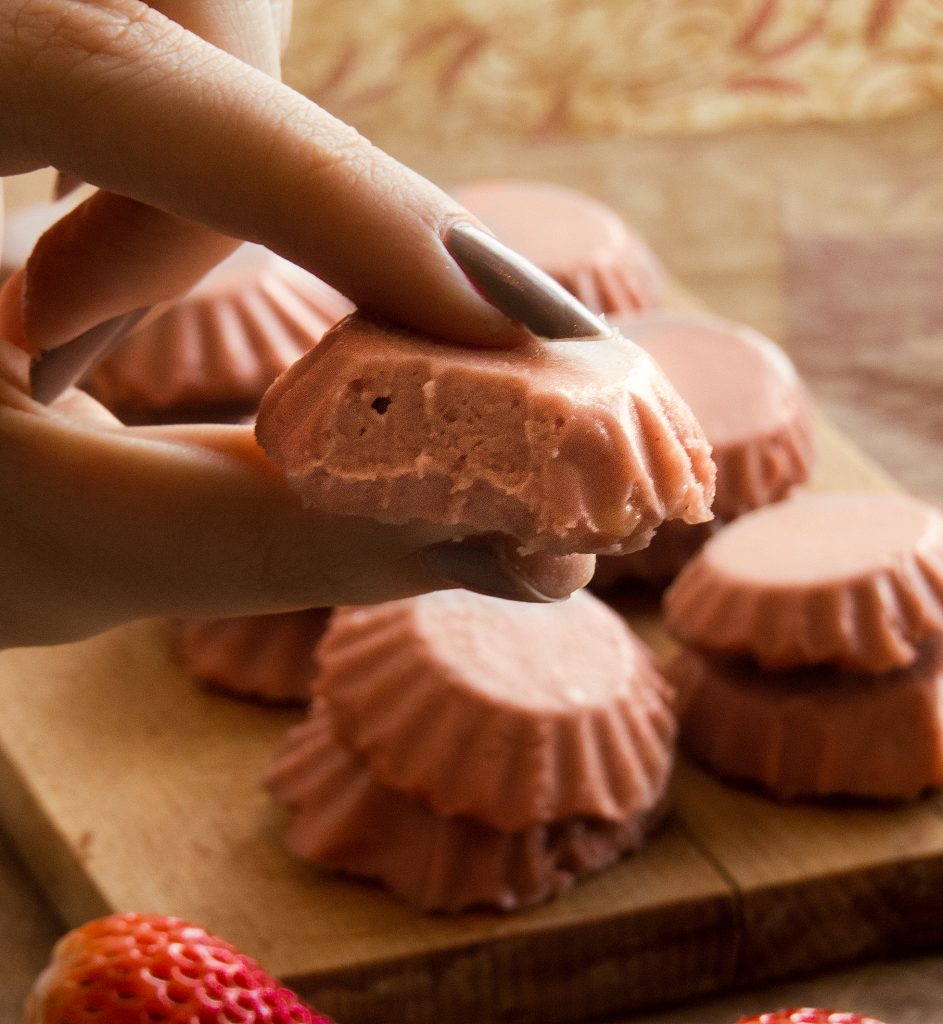 Ever since I was a child I adored strawberries. My father used to grow them in our garden, and spring couldn't come quick enough back then. Strangely, I never found a creative way to incorporate them into a dessert, I only ever used them for cake decoration. Maybe it is because I have never been able to truly taste the strawberry in a cake, I always preferred to eat them fresh. And strawberry flavored food like pocky or chocolates only made me sick. That is, until I made a batch of this amazing strawberry fudge.
Like in my previous mocha cheesecake recipe, I used cashews as a base. I know there are people who avoid them because they can be a bit pricey, but I will always recommend them (if you're not allergic), mainly because of some amazing health benefits that they have. And not just them, any type of nuts, they have some good fats in them that will help your body stay healthy (especially if you are vegan).
So, if you can, treat yourself from time to time with a cheesecake, a dip or this lovely strawberry fudge. Also, from what I've seen, children adore it.
Some health benefits
Besides being delicious, sweet, red truffles sent from heaven, strawberries can also be really good for you. They are a good source of vitamin C, manganese, folate (vitamin B9), and potassium. They contain small amounts of several other vitamins and minerals. Strawberries are loaded with antioxidants and very low in calories (they can help you lose weight).
Studies have found a relationship between berries or berry anthocyanins and improved heart health. Large observational studies in thousands of people link berry consumption to a lower risk of heart-related deaths. According to a study in middle-aged people with well-established risk factors for heart disease, berries may improve HDL cholesterol, blood pressure, and blood platelets function.
They are also found to have a role in regulating blood sugar, and a number of studies suggest that berries may help prevent several types of cancer through their ability to fight oxidative stress and inflammation.
Those are only some of the reasons you may want to incorporate berries into your diet. When it comes to cashews, I have already writen a great deal about them in my vegan mocha cheesecake recipe, so you might want to check that one out. As I said, they are pretty amazing in their own right.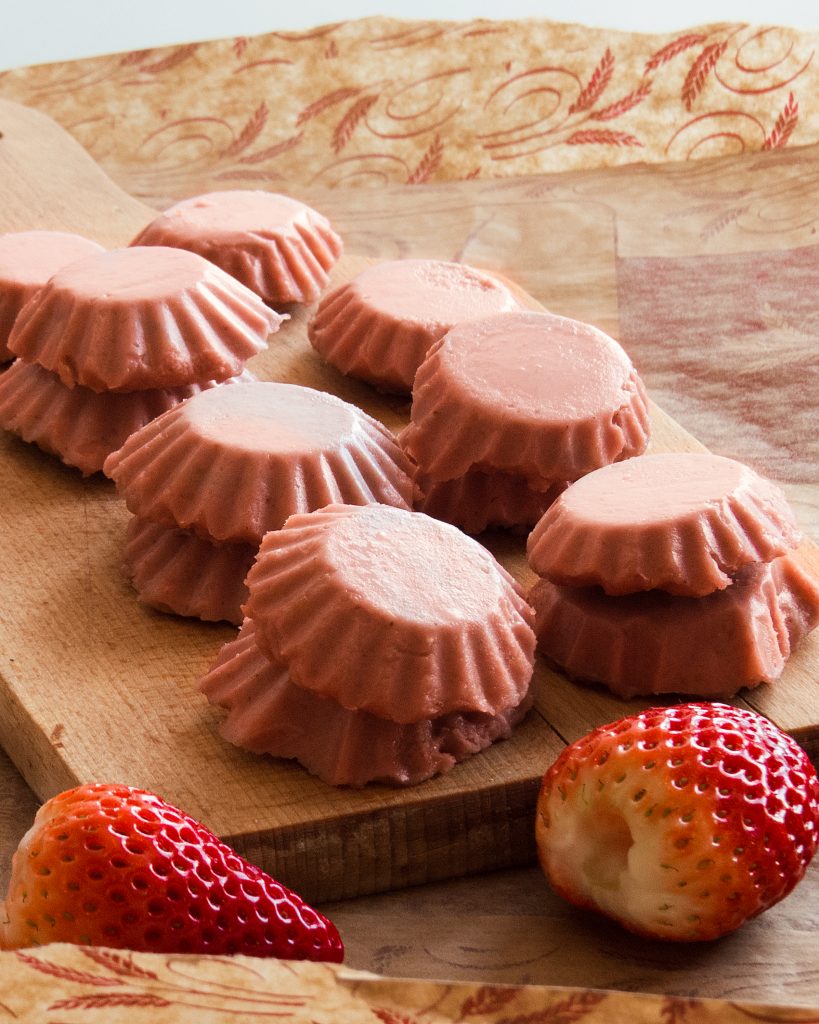 A piece of advice
Now, I know that these fudge pieces are shaped a bit strange. In my defense, I made them a while ago when I didn't even imagine I would have a website of this sort. That was not my plan back then, and I didn't care as much.
I had this stupid idea that it would be great to pour the batter in tiny cupcake paper moulds. Spoiler alert, it was not, and this is what I ended up with. So my advice to you is to use a better type of mould, or if you don't have one to just pour the batter in a baking dish and cut into cubes later on. That should work too.
Also, if you want the strawberry fudge to have the right creamy texture, don't forget to soak the cashews in some water. This is important.
Another thing that I would suggest is to get some red beet juice. If you find that your batter does not have the pink color that you want (which can happen), just add a tiny sip of red beet juice to your batter and blend. This should fix the problem. And trust me, you will not be able to taste the juice, not even a tiny bit.
Also, the amount of almond flour you need for this recipe is really small. Instead of buying a whole bag of almond flour, what I like to do is just buy a tiny bag of blanched almonds and blend them until I get almond flour. Almond flour is really expensive where I live, so I find this to be a better option when I am short on money, or when I don't need a lot of it for a recipe.
I hope that all of this was helpful and that you will enjoy this treat as much as I did. I would love to see what it looks like when a normal mould is used, so if you have one don't hesitate to send me the pictures of this fudge. I don't have as much time to enjoy this dessert these days, since I am busy with other recipes and posts. But if you have a bit of time on your hands, what are you waiting for? Strawberry season is upon us!
Strawberry fudge
Course: Sweet
Ingredients
130 g of cashews

80 g of strawberries

3 tbsp of melted vegan butter

3 tbsp of maple syrup

2 tbsp of almond flour

1 tsp of vanilla extract
Directions
Soak the cashews in water for about 4 hours. This will make them softer and result in a creamy texture.
Cut the strawberries into smaller pieces and put them in a blender. Blend them until they turn into a puree.
Add all other ingredients and blend until you get a creamy thick texture. Pour into silicone moulds for candy/fudge (mine look weird because I used paper cupcake moulds) and leave in the freezer for about 50 minutes.
You can also pour the fudge batter in a bigger cake mould and cut the fudge into cubes later on.
If you liked this recipe, make sure you check out my other recipes like:
– vegan mini red velvet cheesecakes
Feel free to tell me what you think about this in the comments below, or send me a picture of your own vegan strawberry fudge. If you did something differently and also ended up with a similar result, I would also like to hear that, I'd love to see the things you come up with.
P.S. for more recipes like this and bunch of other stuff, follow me on instagram, @margo_drobi.