Vegan donut holes
This was again one of those situations where I had a lot of leftover ingredients from different things I made in the past. There is always that 1 tablespoon of maple syrup at the bottom of the bottle that I feel bad about throwing out. Luckily, these vegan donut holes do not lack sweetnes and I could use it for coating only. Dates took care of that. I used the small ones, but you will get much better results if you can purchase Medjool dates. Enjoy!
Ingredients
-95 g of almond flour
-130 g of dates (preferably Medjool dates)
-70 g of cashew butter
-43 g hazelnuts
-32 g of coconut flour
-1 tsp of vanilla extract
-3 tbsp of coconut oil
-1 and 1/2 tbsp of maple syrup
-2 tsp of sprinkles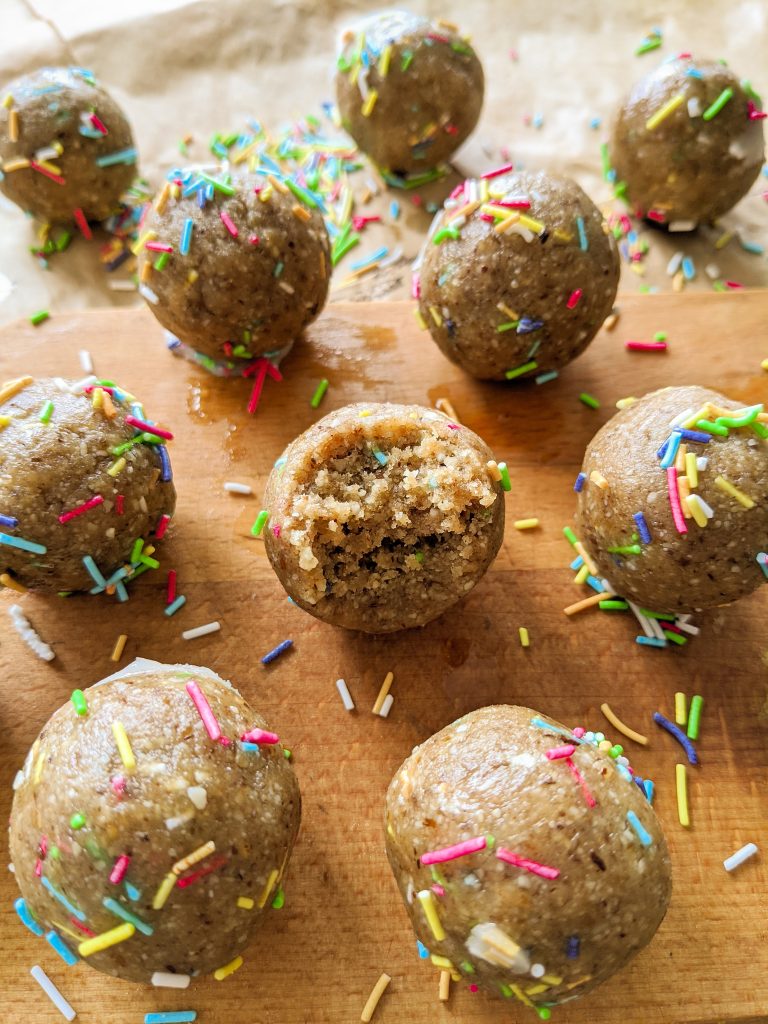 Instructions

Blend the hazelnuts in a blender until you get hazelnut flour. Make sure there are no nut pieces left. In a separate bowl, mix the hazelnut flour with coconut and almond flour.
Chop the dates into smaller pieces and put them into the blender. Blend until a sticky mass is formed (or a ball).
Add almond, hazelnut and coconut flour, cashew butter and vanilla extract to the blender. Blend until everything is well combined, you might have to stop from time to time and scrape the dough up from inside the blender.
Roll 10-12 balls from the dough with your hands and refrigerate.
Mix the melted coconut oil and maple syrup in a smaller bowl. Dip the donut holes into this mixture until completely covered and roll them in sprinkles.
Leave them in the refrigerator on a piece of parchment paper until the coconut oil has solidified.
P.S. Sprinkles can also be added to the dough, before you start rolling it. Two tbsp should be enough
If you liked this recipe, make sure you check out my recipe for vegan red velvet mini cheesecakes!
For more recipes like this make sure you follow me on instagram, @margo_drobi.