Tofu in orange sauce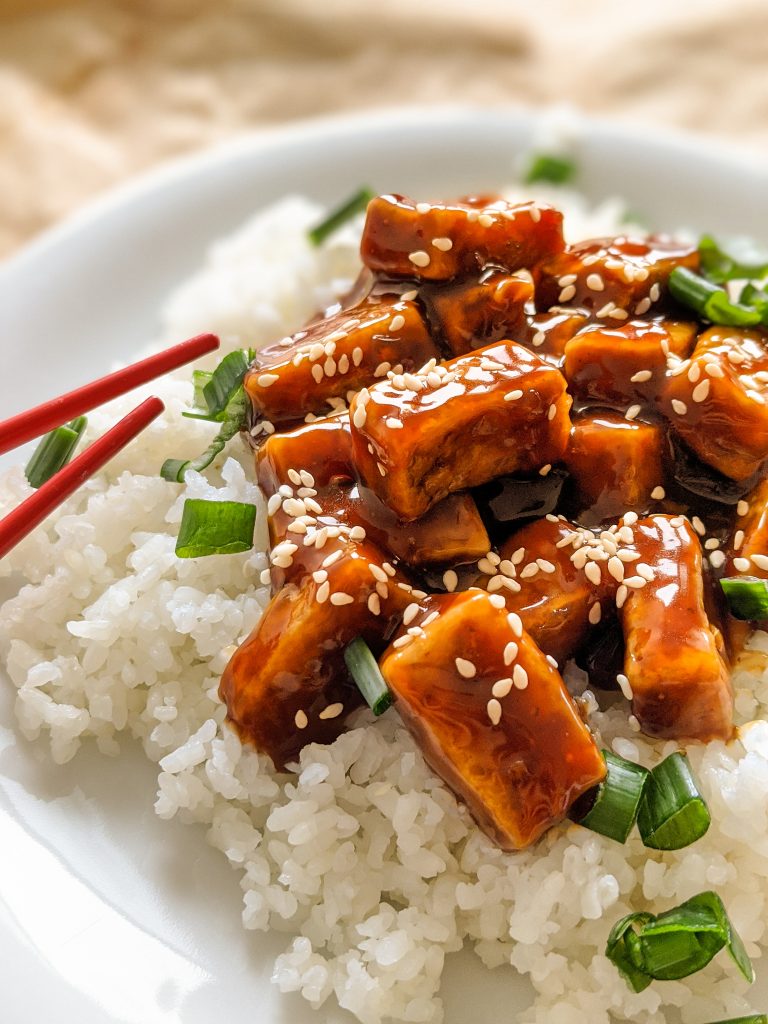 Crispy, sticky tofu in orange sauce to get you trough the day. I used blood orange for this one, if you use the regular one the color of the sauce should be somewhat lighter. Enjoy!
Ingredients
Crispy tofu:
-1 pack of tofu
-2 tbsp of olive oil
-2 tbsp cornstarch
Sauce:
-125 ml vegetable broth
-65 ml of fresh squeezed orange juice
-50 g of sugar or maple syrup
-40 g rice vinegar
-30 g soy sauce
-1-2 cloves of garlic
-2 tsp grated ginger
-1 tsp of Siracha sauce
-2 tbsp cornstarch
-30 ml of water
-rice
-green onions or scallions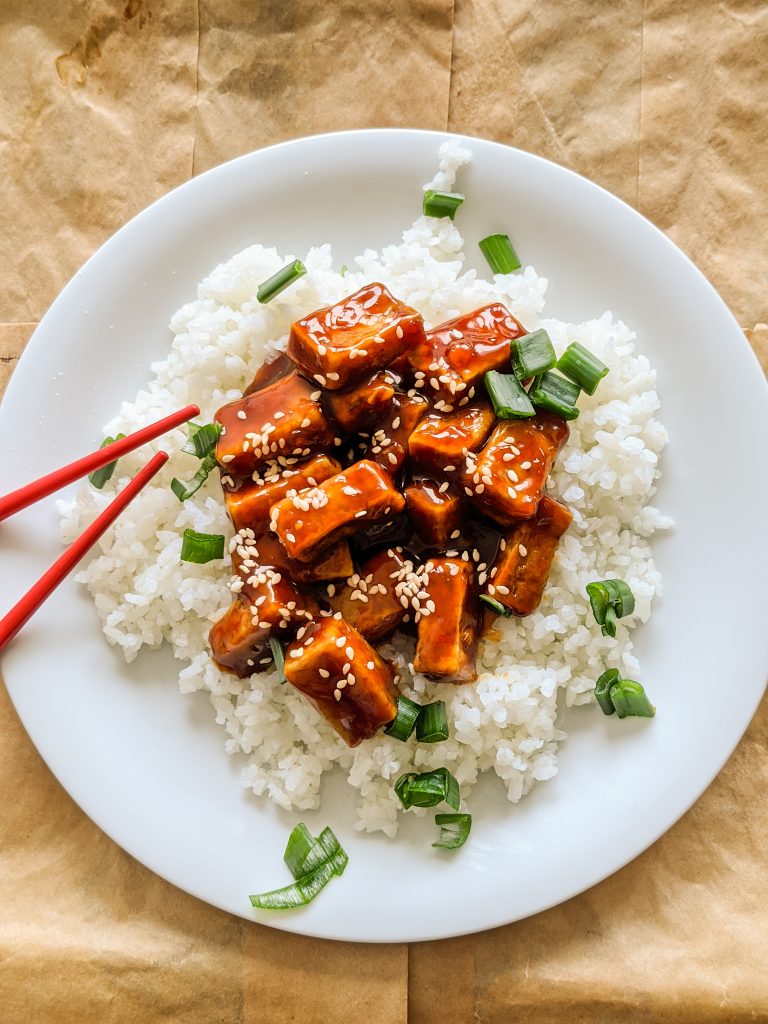 Instructions
Cut the tofu into thicker cubes and place them on paper towels to dry on all sides (flip the cubes and repeat the process several times). Put the tofu cubes in a zip-lock bag, add olive oil and cornstarch and close the bag. Gently move the cubes in the bag until they are all covered with oil and starch.
Put them on a baking tray and bake for 10-15 minutes at 200 degrees Celsius. Flip tofu to the other side and bake for additional 10-15 minutes.
Put all the ingredients for the sauce (except the starch and water) in a pan and stir. Bring the mixture to boil. Then reduce to medium temperature. In a glass, mix starch and water and pour into the pan. Stir constantly until the mixture thickens.
Add the tofu to the mixture, stirring until it is completely covered with sticky orange sauce.
Cook rice in a separate bowl. Measure the same amount of rice and water and place in a pot. Turn the stove to the highest temperature and wait for it to start boiling slightly at the edges. Turn the stove of, wrap the lid of the pot in a kitchen cloth and cover. Let it cook for 10 minutes without lifting the lid.
Serve tofu in orange sauce with rice and green onion or scallions.
If you liked this recipe, make sure you check out my recipe for creamy polenta with mushrooms in wine sauce.
P.S. for more recipes follow me on instagram, @margo_drobi.