Vegan pumpkin gnocchi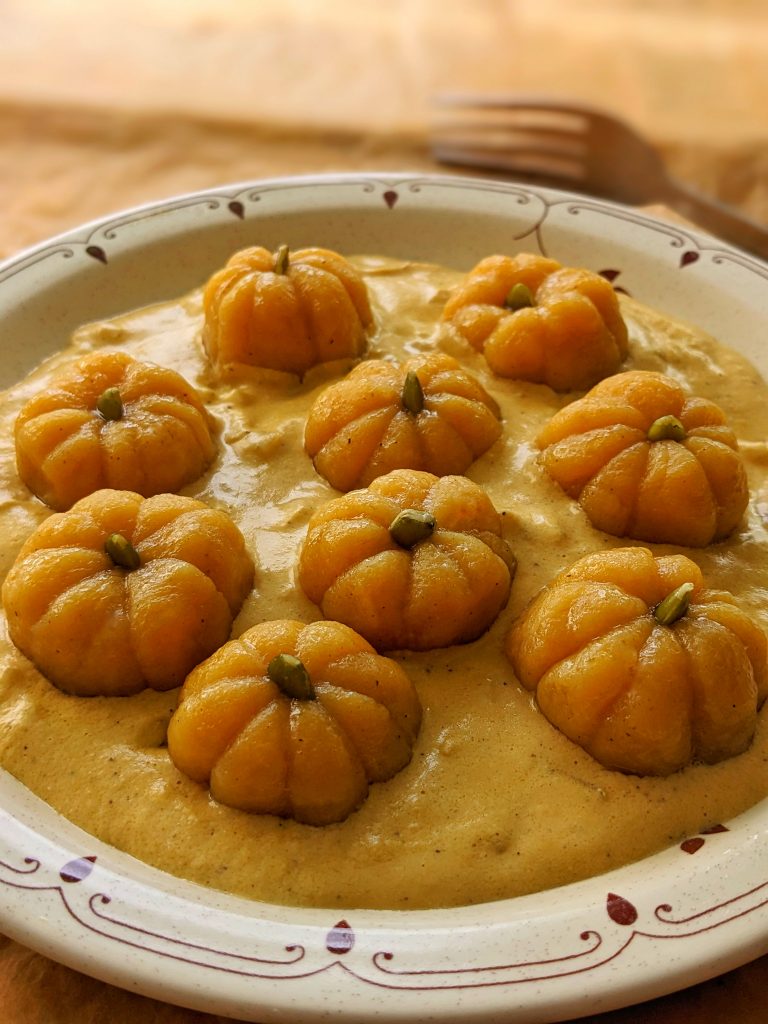 This is once again a recipe I've see on reels and decided to make it my own. Vegan pumpkin gnocchi were made by a different creator (by the name of Joyce Mrad), but they weren't vegan to begin with. So I took the inspo and made this recipe my own, with a smooth vegan pumpkin sauce.
Since fall recipes are on my schedule, I couldn't let this one pass me by. Most of my pumpkin shaped dishes are sweet, but this is an exception. To be quiet honest, I'm glad I made this. It does not have anything to do with the shape, but the dough was really on point. As was the sauce. I highly recommend this cute little autumn recipe.
And the pumpkin seed stems are really a clever touch. Make sure to visit this creator, @joyfulhomecooking and see what they do. There you can find the vegetarian version of vegan pumpkin gnocchi.
I am not entirely sure in how many portions these measurements will result. I had quite an appetite, so I ate everything. But maybe it is enough for 2 plates. The recipe is quite easy and straight to the point, so I don't think we really need another post section with tips and tricks. But if anything comes up, please make sure to leave it in my comments or messages.
Some health benefits
Pumpkin is high in vitamins and minerals while being low in calories. It's also a great source of beta-carotene, a carotenoid that your body converts into vitamin A. It is full of vitamin A and C, which can help boost your immune system. Its supply of vitamin E, iron and folate may strengthen your immunity as well.
Pumpkins' high vitamin A, lutein and zeaxanthin contents may protect your eyes against sight loss, which becomes more common with age. It is packed with nutrients and yet has under 50 calories per cup (245 grams). This makes it a nutrient-dense food. It's also a good source of fiber, which may suppress your appetite. Pumpkin carotenoids function as antioxidants. These compounds are linked to lower risks of stomach, throat, pancreas and breast cancers. And potassium, vitamin C, fiber and antioxidants, which the pumpkin is abundant in, have been linked to heart health benefits.
Pumpkin is high in beta-carotene, which acts as a natural sunblock. It can definitely help keep your skin strong and healthy. It is very healthy and generally safe when eaten in moderation. I think that these are some very good reasons to include pumpkins in your meal plan. I highly recommend using vegan pumpkin gnocchi as a start.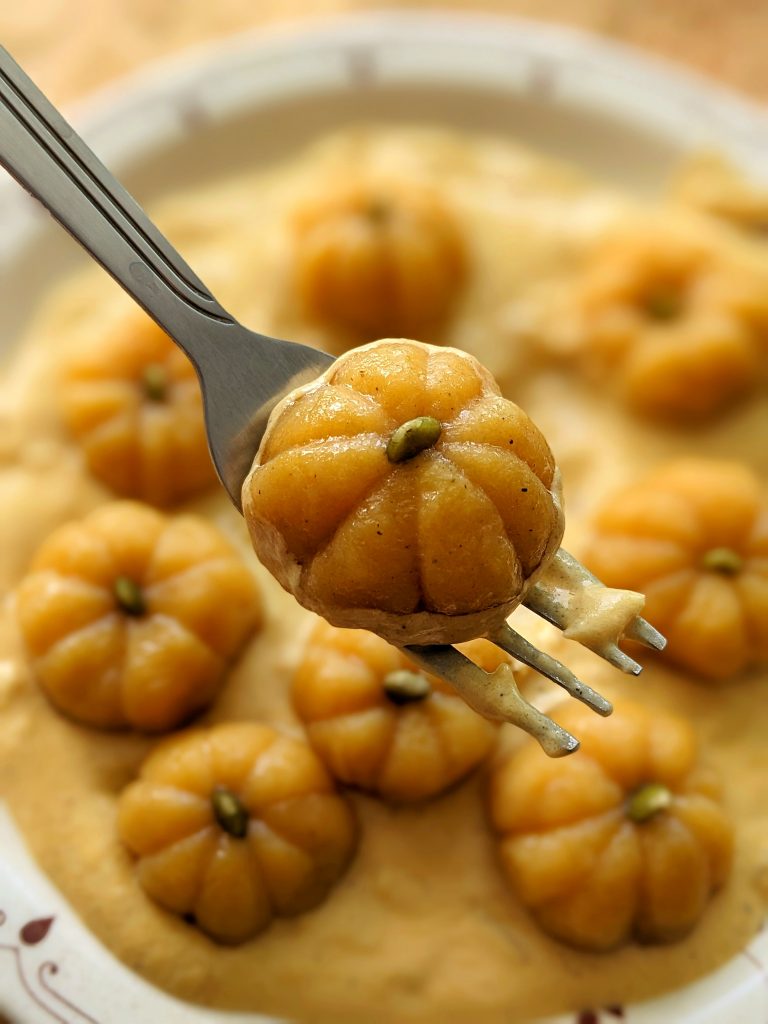 Vegan pumpkin gnocchi
Course: Salty, Salty
Ingredients
For the gnocchi:

190 g of all-purpose flour

1 large russet potato

130 g of pumpkin puree

1 tsp salt

a pinch of ground nutmeg

pumpkin seeds

For the pumpkin sauce:

a drizzle of olive oil

50 ml of vegan cooking cream

1/2 of a yellow onion

3 tbsp of pumpkin puree

1 tbsp of nutritional yeast

a pinch of salt

black pepper to taste
Directions
Peel the ruset potato and slice it into several pieces. Place potato in a medium pot, cover with water, and bring to a boil. Reduce heat, simmer for 20-30 minutes, until easily pierced with a fork. Drain, reserving a small amount of starchy water, set it aside.
Mash potatoes finely using a potato masher. Measure about 95 g of mashed potatoes.
In a large bowl, mix mashed potatoes with pumpkin puree, salt and nutmeg. Gradually add the flour. Knead as you go until a soft, slightly sticky dough forms. Add flour or reserved starchy water if needed.
Once smooth, knead dough briefly. Cut into smaller pieces and roll them into balls. Shape gnocchi into pumpkin shapes using a knife. Press the knife down a few times in order to form ridges. Take one pumpkin seed and press it down into the center of the gnocchi. This should represent the stem. Repeat the process until you run out of dough.
Bring a large pot of salted water to a boil. When the pot of water boils, gently add gnocchi and stir slowly to prevent sticking. Boil until they float, then let them sit for 30 seconds. Using a slotted spoon, transfer cooked gnocchi on a plate.
Next, prepare the pumpkin sauce. Dice the onion into very small pieces. Drizzle a little bit of olive oil on a non-stick pan. Sautee the onion for a few minutes (until translucent). Add the vegan cooking cream, pumpkin puree, salt, pepper and nutritional yeast and stir. Cook until slightly thicker and well combined.
Transfer the sauce into a serving plate. Place the vegan pumpkin gnocchi on top of the sauce. Enjoy!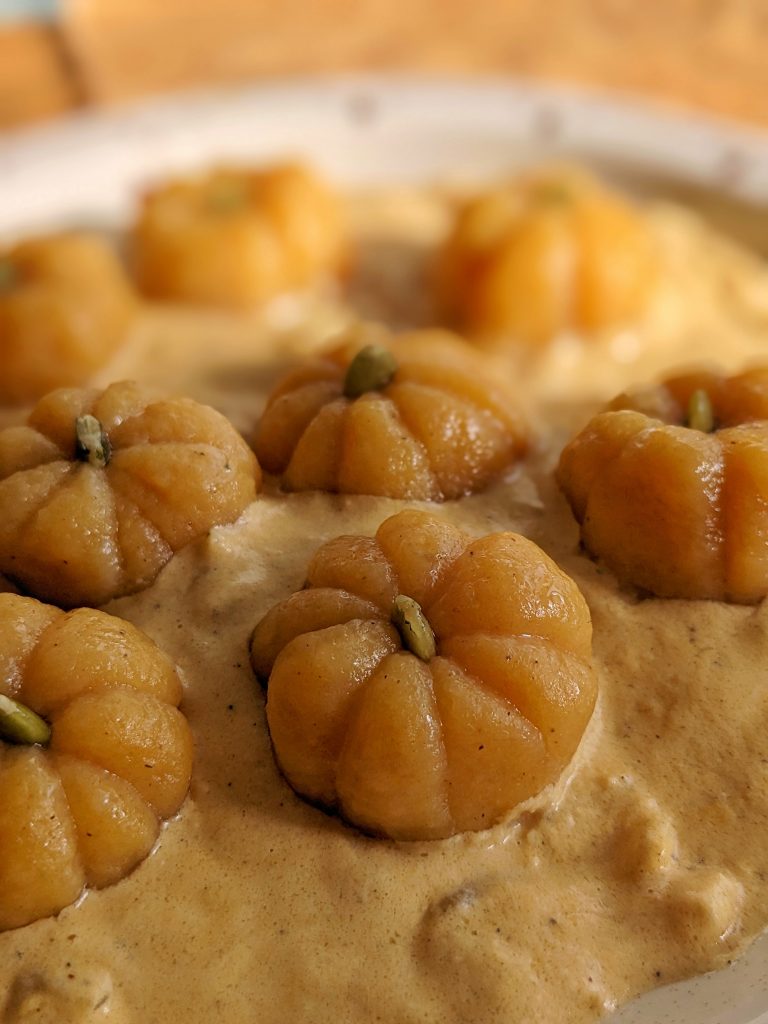 If you liked this recipe, make sure you check out my other recipes like:
Feel free to tell me what you think about this in the comments below, or send me the pictures of your own vegan pumpkin gnocchi. If you did something differently, I would also like to hear that, I'd love to see the things you come up with.
P.S. for more recipes like this and a bunch of other stuff, follow me on Instagram, @margo_drobi.
Also, I recently started a Patreon page, where you can subscribe and help me create more/better content. In return, you will get an exclusive piece of content (recipe) each month. My plan is to increase the amount of that content if I gain a few subscribers. If you are interested and you want to find out more, I will leave the link to my Patreon right –here.