Vegan pumpkin cakes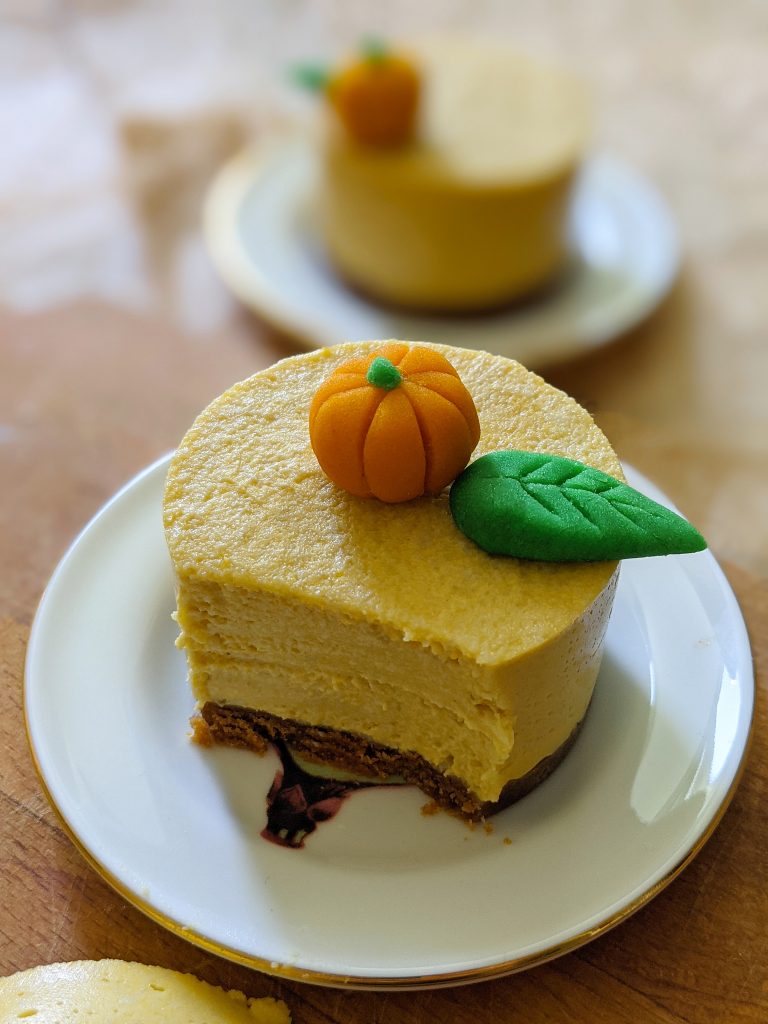 Autumn is still here and Halloween is approaching. So what better time to make pumpkin flavored and pumpkin shaped desserts than now? Vegan pumpkin cakes are just the thing for this time of year.
They are super delicious, very easy to make and even easier to get addicted to. I used a couple of different recipes in order to create this cake, if you keep reading you will find out what I mean. If you ever made a raw vegan cheesecake, this will seem very familiar.
Some health benefits
While it is super delicious, this may not be the healthiest dessert out there. I did my best to reduce the sugar content, but it is still not all that healthy. However, there are some ingredients in it that you can benefit from (a lot). For example, cashews. It is my favorite nut, so I always make sure to mention the effects it can have on your body.
Many studies show that nut intake has a cholesterol-lowering effect, and there is emerging evidence of beneficial effects on oxidative stress, inflammation, and vascular reactivity. Cashews help lower LDL and increase the carrying capacity for HDL. They are protein rich and can help you lose weight.
Eating cashews can boost your immune system and lower the risk of gallstones. They are also rich in essential minerals, including copper, calcium, magnesium, iron, phosphorus, potassium, and zinc. This also means that they are super beneficial for your skin and hair.
Cashews contain nutrients that most people tend to forget about when they first start a vegan diet, but you really need those for your body to stay healthy, so make sure you incorporate them (and other nuts) in your meal plan (cake or no).
A piece of advice
This recipe is not hard to pull off. If you ever made a vegan cheesecake, you should not have any problems with this, it is pretty much the same. But I (almost) always have something to add, so once again, I am leaving additional tips and tricks for you.
Let's talk about some ingredients. In this recipe I used vegan margarine for the crust. Now I know that it is very unhealthy, but I think that it works better in cakes than coconut oil. That is just my personal preference. If you want you can always go with melted coconut oil.
Do not forget to soak the cashews for at least 8 hours. They need to soften up. Otherwise your cream will not turn ot that creamy. People often ask me what coconut syrup is. It is a sweet syrup, very similar to maple, but a bit thicker and maybe a tad bit sweeter. If you can't find it in a store, I think you can use maple syrup instead.
Use full fat coconut cream from a can. It is basically the cream that forms at the top of a coconut milk can. You should be able to find it at the Asian food section at the store.
Taste the cream before you pour it over the crusts, just to check if it is sweet enough for your liking. If you freeze the vegan pumpkin cakes completely, make sure to take them out and let them rest a bit in the fridge. This way they can soften up a bit before you serve them.
Prior to making this recipe I made some Japanese wagashi. So I decided to use some of the wagashi dough to make the decorations for these – tiny pumpkins and leaves. If you are interested in how I did that, I linked the recipe at the bottom of this post.
I only made a small amount of vegan pumpkin cakes, so these measurements make about 3 to 4 cakes. If you need more than that, make sure to adjust the measurements.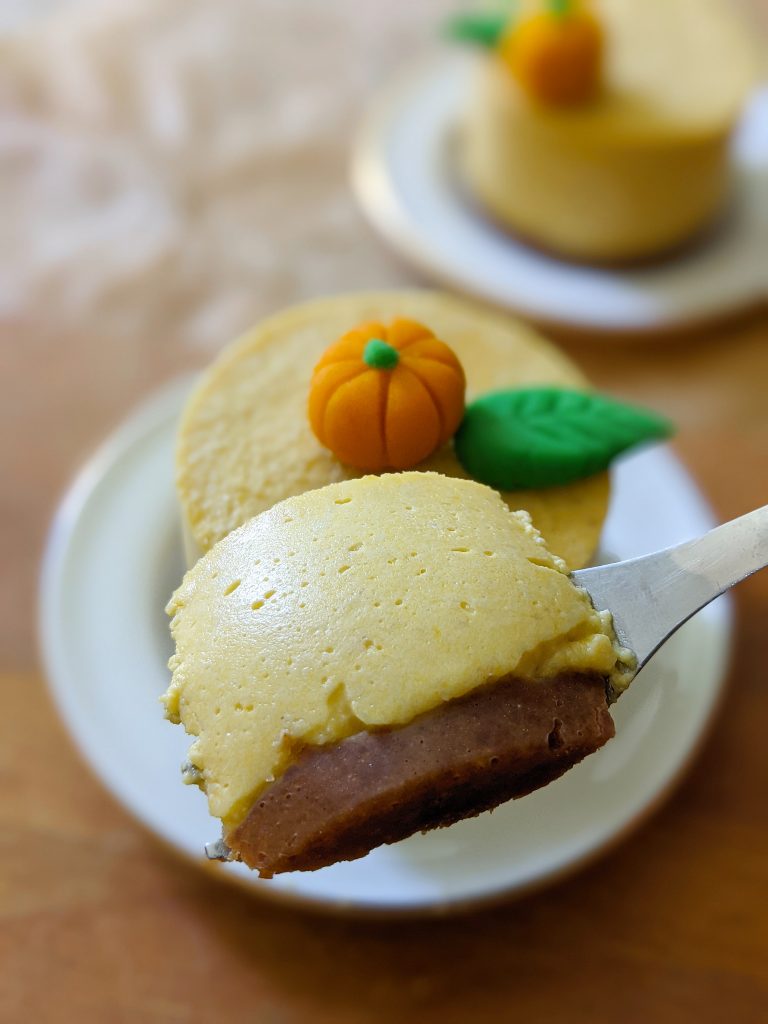 Vegan pumpkin cakes
Ingredients
For the crust:

300 g of Lotus biscoff cookies

10 g of margarine (or coconut oil)

For the cream:

70 g of raw cashews

50 g of Hokkaido pumpkin

80 ml of full-fat coconut cream

20 ml of coconut oil

40 ml of coconut syrup
Directions
Soak the cashews in water overnight. Start of by preparing the crust. Blend the Lotus cookies in a blender until you get a fine powder. Melt the margarine over low heat. Add it to the Lotus cookies and mix until the two are well combined.
Divide the mixture into three to four parts and put them into some muffin (or panna cotta) silicone molds. Pres each part down with your fingers so that you form a crust on the bottom of the molds. Put the molds in the freezer.
Next, prepare the cream. Cut the Hokkaido pumpkin into small pieces. Cook it in a steamer until it becomes fork tender. Transfer it to a bowl and mash with a potato masher until no large pieces are left. You can also put it in a blender and blend until you get a Hokkaido puree.
Remove the water from the cashews. Put all of the cream ingredients in the blender. Blend until everything is combined and you get a creamy texture. Take the silicone molds from the freezer and pour the cream over the crusts. Put everything in the freezer again. Leave it there until the cakes set.
Take the vegan pumpkin cakes out of the freezer, decorate them if you want, and serve them. For the decoration I used some of the remaining wagashi dough that I made. I will link the wagashi recipe below.
If you liked this recipe, make sure you check out my other recipes like:
Feel free to tell me what you think about this in the comments below, or send me the pictures of your own vegan pumpkin cakes. If you did something differently, I would also like to hear that, I'd love to see the things you come up with.
P.S. for more recipes like this and a bunch of other stuff, follow me on Instagram, @margo_drobi.
Also, I recently started a Patreon page, where you can subscribe and help me create more/better content. In return, you will get an exclusive piece of content (recipe) each month. My plan is to increase the amount of that content if I gain a few subscribers. If you are interested and you want to find out more, I will leave the link to my Patreon right –here.