Vegan Lotus Biscoff cheesecake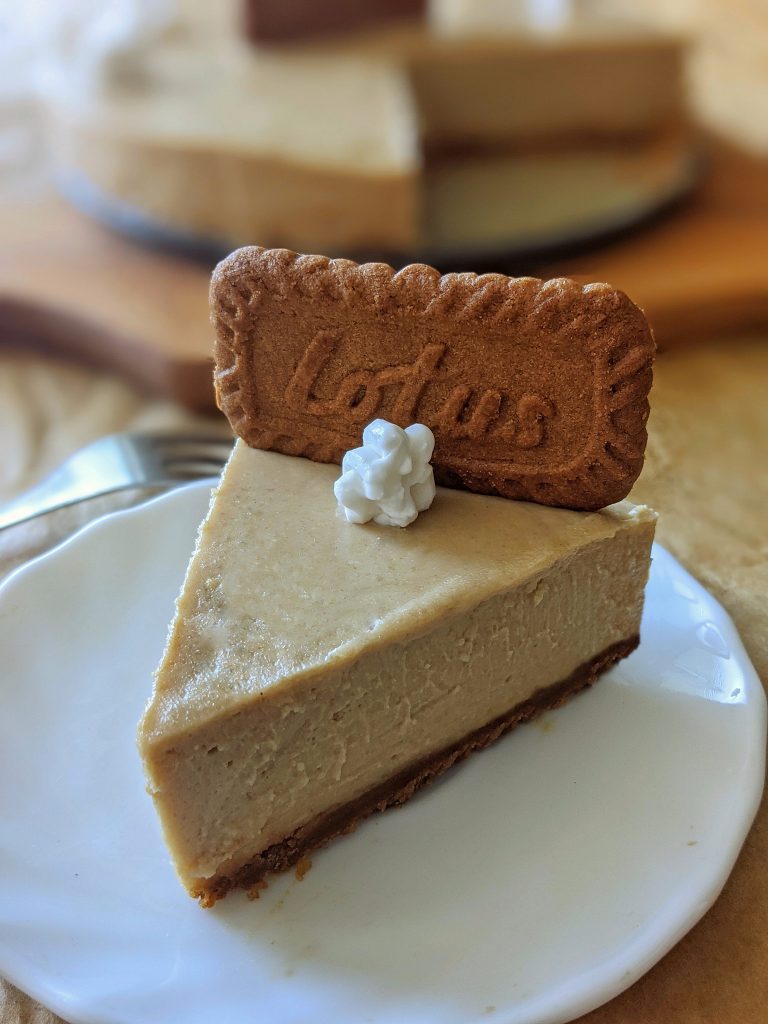 This recipe is something you've probably seen before. There are a bunch of recipes for vegan Lotus Biscoff cheesecake out there, but I just had to make one of my own. I only recently got a chance to order these vegan cookies (we don't have them in stores in Bosnia) and there was only one thing I wanted to use them for. A cheesecake, of course. I have been craving it for so long.
It turned out better than I even imagined. This vegan Lotus Biscoff cheesecake is creamy, sweet and super delicious. So I believe I am going to continue to order these cookies just for this recipe, it was totally worth it. This is also the first time I used vegan cream cheese to make a vegan cheesecake, and I have to say that I really liked it. I don't like the cream cheese on its own, but it seems to be a good cake ingredient.
A piece of advice
This is a very easy recipe. You will not have any problems with it, esspecially if you ever made a vegan cheesecake prior to this. But just in case you are a beginner, I will leave a few tips and tricks here, to make the whole process easier for you. The health benefits part is something I decided to skip today, since the only healthy ingredient is the cashew. And we talked about them a bunch of times.
First of all, don't forget to soak the cashews prior to making the cake, for 8 hours at least. This is essential for a creamy filling. If you live in Bosnia as well and are wondering where to buy these cookies, I am going to solve the mistery. I noticed Lotus cookies in a local coffeehouse. They told me I could order them from a store called Frutela wonderland, and I did. And so can you, I think they have it in Serbia as well.
When you make the crust, make sure to blend the cookies to a fine powder, and if there are any chunks left, just remove them. Add the melted vegan margarine gradually, since you may not have to use all of it to get a soft dough that you can shape into a crust. You can press the crust down with your fingers and if you want you can even it out a bit with another piece of parchment paper.
These measurements make a small cheesecake, if you need a really large one, make sure you double the measurements. Stop a few times to scrape down the filling ingredients from the walls of a blender cup if you need to. When you pour the filling over the crust, you don't have to return the cake mold to the freezer. It can set in a fridge for a few hours, and when it does, you can serve it right away. The texture will be perfect and there will be no need to defrost it. You can also cover it with a plate so it does not dry out.
I piped a mixture of vegan cream cheese and coconut cream on each piece to decorate the vegan Lotus Biscoff cheesecake. It looked fine but the cream tasted weird so I suggest you add some sugar to that as well.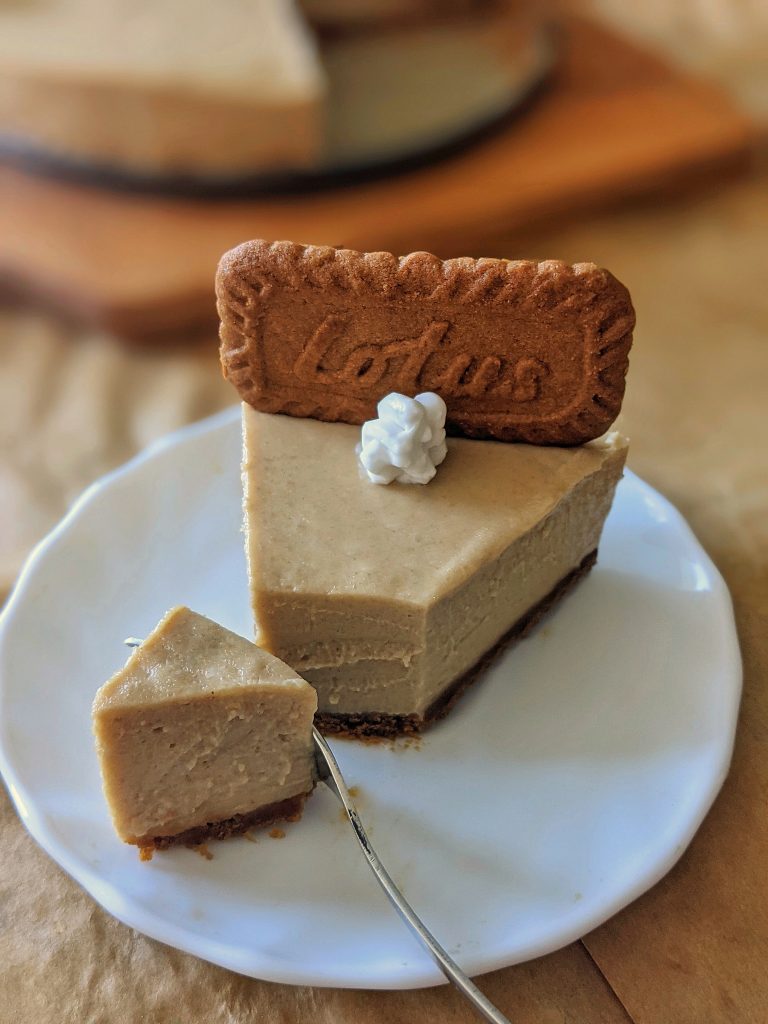 Vegan Lotus Biscoff cheesecake
Ingredients
For the crust:

150 g of Lotus Biscoff cookies

50 g of margarine

For the filling:

150 g of cashews


200 g of vegan cream cheese


150 ml of coconut cream


110 g of Lotus Biscoff cookies


70 g of vegan powdered sugar
Directions
Soak the cashews in water for at least 8 hours before making the cake.
Then make the crust. First, put 150 g of Lotus Biscoff cookies in a blender and pulse until there are no large chunks left. Transfer it to a small bowl. Melt the vegan margarine on low heat and pour it gradually on top of ground Lotus cookies while mixing. You should end up with a soft crust that you can shape with your fingers. Line a cake mold with some parchment paper. Transfer the cookie crust to the cake mold and press it down with your fingers in order to even it out and shape the crust. When you are done with this, put the cake mold in the freezer. Then make the filling.
Remove the water from the soaked cashews. Put 110 g of Lotus cookies in a blender and pulse until you get a fine powder. Then add the cashews, powdered sugar, vegan cream cheese and coconut cream to the blender as well. Blend everything until you get a homogenous, creamy filling. Stop a few times to scrape down the ingredients from the walls of a blender cup if you need to. When you're done, take the cake mold from the freezer and pour the filling on top of the crust. Put the cake in the fridge and leave it there to set for at least 3 hours (or overnight).
When the filling becomes solid, you can remove the cake from the mold, cut it and serve. I decorated my cake with whole Lotus biscoff cookies and a mix of cream cheese and coconut cream.
If you liked this recipe, make sure you check out my other recipes like:
Feel free to tell me what you think about this in the comments below, or send me the pictures of your own vegan Lotus biscoff cheesecake. If you did something differently, I would also like to hear that, I'd love to see the things you come up with.
P.S. for more recipes like this and a bunch of other stuff, follow me on Instagram, @margo_drobi.
Also, I recently started a Patreon page, where you can subscribe and help me create more/better content. In return, you will get an exclusive piece of content (recipe) each month. My plan is to increase the amount of that content if I gain a few subscribers. If you are interested and you want to find out more, I will leave the link to my Patreon right –here.