Matcha pistachio chocolate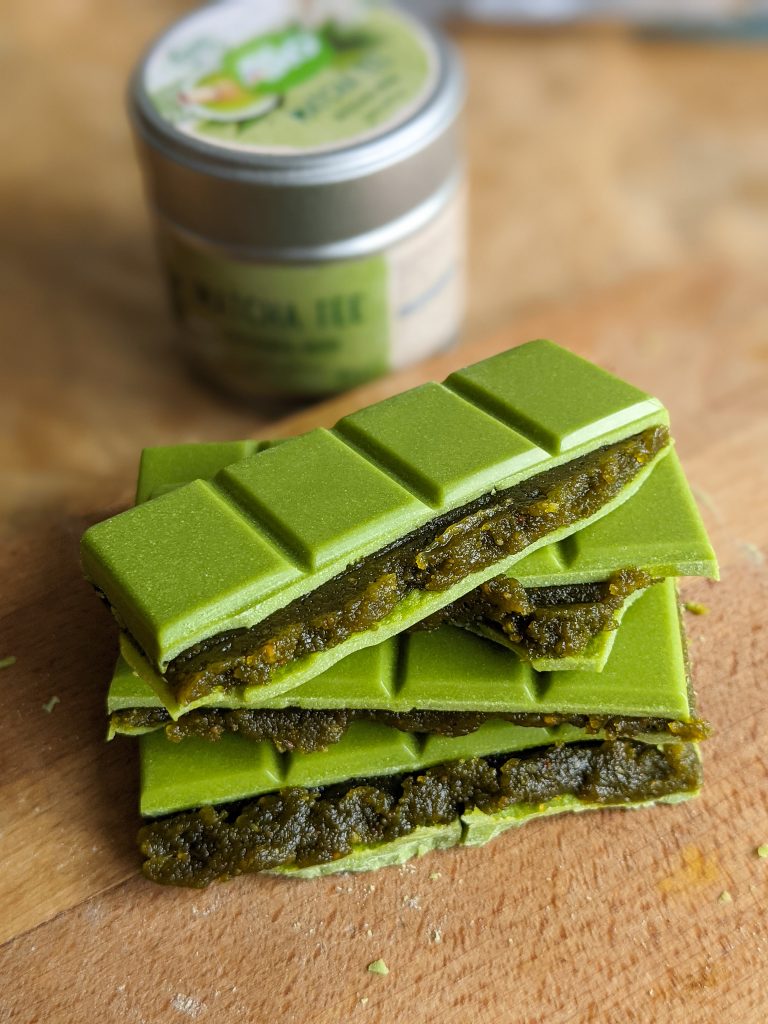 This chocolate recipe is somewhat different than your regular vegan chocolate. Matcha pistachio chocolate is beyond delicious (with an awesome filling) and is also kind of good for you.
If you want to know more about that I suggest you keep reading. If you follow my blog you may know about these health benefits already, but it doesn't hurt to repeat them once more.
Some health benefits
Pistachios are high in protein, fiber, and antioxidants. They also boast several other important nutrients, including vitamin B6 and potassium. They contain fewer calories and more protein than most other nuts. Also, their essential amino acid content is higher than any other nut.
Eating pistachio nuts may aid weight loss. Studies show that eating pistachios may help lower blood cholesterol. It may also lower blood pressure more than other nuts. They may play an important role in promoting blood vessel health. That's because they are rich in L-arginine, which, when converted into nitric oxide, helps dilate your blood vessels.
Pistachios have a low glycemic index, which might promote lower blood sugar levels.
I think these are some pretty good reasons to incorporate these ingredients into your meal plan. And if you need a good idea, I suggest you begin with this delicious vegan kaju pista.
Matcha contains a concentrated amount of antioxidants, which may reduce cell damage and prevent chronic disease. Some studies have shown that matcha could prevent liver damage and decrease the risk of liver disease. However, additional studies are needed to look at the effects on humans in the general population.
Matcha has been shown to improve attention, memory, and reaction time. It also contains caffeine and L-theanine, which can improve several aspects of brain function. Studies show that green tea and matcha can decrease several heart disease risk factors. Some also show that green tea extract helps increase metabolism and fat burning, both of which may aid weight loss.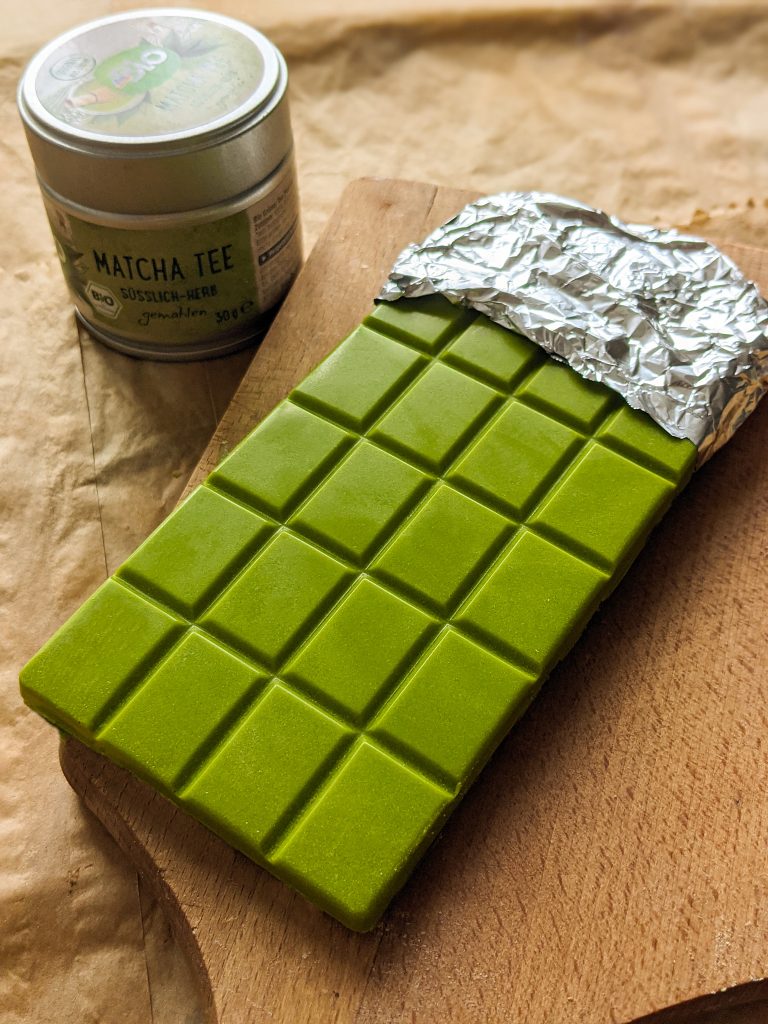 Matcha pistachio chocolate
Ingredients
70 g of cocoa butter

30 g of powdered sugar

30 g of soy milk powder

3 tsp of matcha powder

For the filling:

60 g of pistachios (without the shell)

30 g of powdered sugar

1 tsp of plant-based milk (if needed)
Directions
It would be ideal if you could find raw, unsalted pistachios. If not, put the salted pistachios in some water and let them soak for about 2 hours. Remove the skin from each one with your fingers and wash them out with some more water.
Put the pistachios in a blender. If you use raw unsalted pistachios, add the plant-based milk to the blender and blend until all of the larger chunks are gone. If you soaked the pistachios you might not need to add the milk. Mix the pistachios together with powdered sugar and knead it into a very soft dough. Set aside.
Mix the soy milk powder and powdered sugar in a small bowl. Sift the matcha powder in to prevent the lumps from forming and mix everything together until well combined.
Chop your cocoa butter into small pieces so it will melt quickly and easily. Set one third of cocoa butter aside, and put the rest of it into a plastic bowl, along with the sugar, milk powder and matcha mix. Bring a pot of water to boil, remove it from the stove and put the plastic bowl with these ingredients in it. The plastic bowl should not touch the water.
Be careful not to get any water mixed with your chocolate. This is very important. When cocoa butter starts to melt, mix everything together. When it has completely melted and reached the temperature of 46 degrees Celsius (115 F), remove it from the double boiler and gradually add the remaining one third of cocoa butter while mixing  all the time, until it melts.
Keep mixing your matcha chocolate constantly, and when the temperature drops to 35 degrees Celsius (95 F), add some more grated cocoa butter to  the mix (the last of it) to cool it down a bit more. When the chocolate temperature drops down to 26 degrees C (79 F), do a little test. Smear 1 teaspoon of the chocolate on a piece of parchment paper and put it in the fridge for 5 minutes. If after 5 minutes the chocolate has hardened, is shiny and has a nice snap – it is tempered. If it is too solid and not easy to work with, return your chocolate bowl to the double boiler and heat it back up to 29 degrees Celsius (85 F). Do not heat it too much, you might ruin all the cocoa butter crystals by doing that.
If your soy milk powder is too grainy and visible in the chocolate, when it is tempered (or close to tempered) transfer it to a blender and blend on high speed for a few seconds.
Take a chocolate silicone mould and pour about half of the chocolate in. Flip it upside down to remove the excess chocolate and scrape it from the edges with a knife. Put it in the fridge and wait for 5 to 10 minutes to solidify. Put the pistachio filling on top and even it out with your fingers. Make sure to leave some space at the top. Pour some more chocolate in the mould to close it off and scrape the excess off with a knife. Put it back in the fridge and let it set.
Pop the chocolate out and enjoy. It should feel and taste perfect on room temperature. These measurements are enough for 1 matcha pistachio chocolate.
If you liked this recipe, make sure you check out my other recipes like:
– dark chocolate panna cotta in pistachio sauce
Feel free to tell me what you think about this in the comments below, or send me the pictures of your own matcha pistachio chocolate. If you did something differently, I would also like to hear that, I'd love to see the things you come up with.
P.S. for more recipes like this and a bunch of other stuff, follow me on Instagram, @margo_drobi.
Also, I recently started a Patreon page, where you can subscribe and help me create more/better content. In return, you will get an exclusive piece of content (recipe) each month. My plan is to increase the amount of that content if I gain a few subscribers. If you are interested and you want to find out more, I will leave the link to my Patreon right – here.
And that was it for today, if you are using Pinterest make sure you follow me on there, and if you want, pin this image: