Jackfruit stew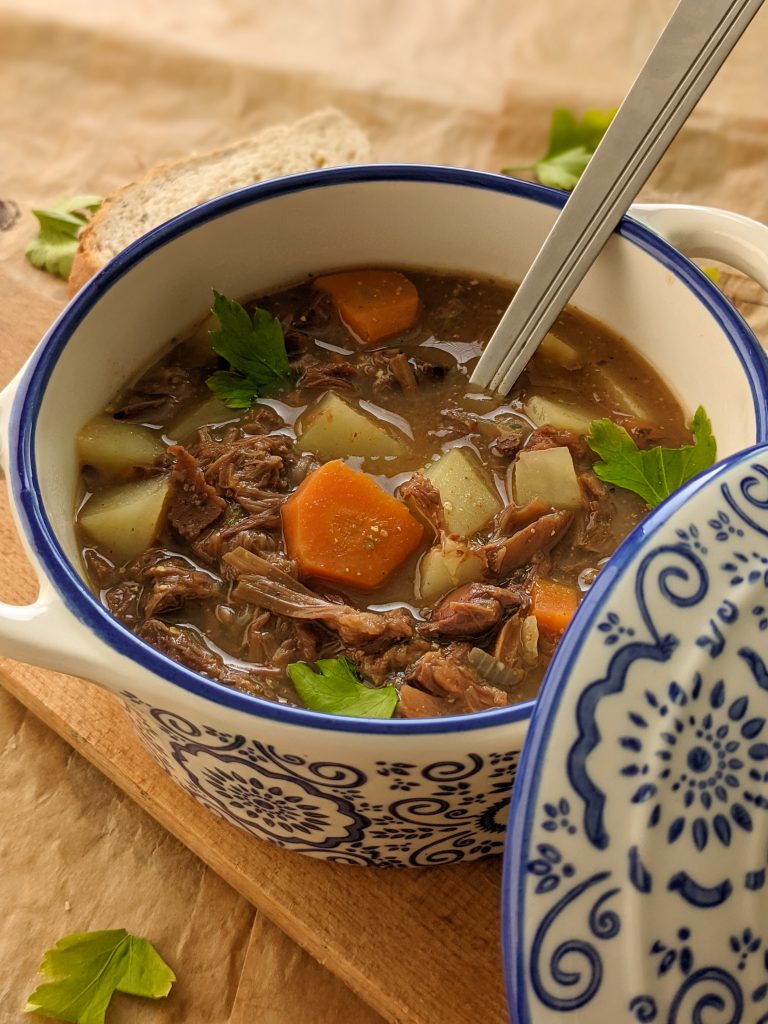 This might be my all-time favorite stew, and no, it does not contain any meat. For those of you who didn't recognize it right away, this is vegan jackfruit stew. And if you never heard of that ingredient, this recipe may be the best way to try it for the first time.
And this is also probably the easiest and most delicious version of vegan stew. I would also recommend it if you are cooking for meat eaters, it is simply something that everyone likes. I don't remember if I have mentioned this recently, but I am doing my best to make more savory, liquid and soothing recipes, since I clearly lack those on my blog. So far I am happy with the dishes I cooked, and this is just one of those recipes. I would really recommend it to everyone (if you are not allergic to any ingredients of course).
Below I left a small introduction to jackfruit and why it can be good for you. And of course, don't forget to read the additional tips for the best results.
Some health benefits
I understand that there are quite a few people who never tried this fruit, so I wrote down a few facts about it, and also some reasons why you should try it. I always purchase it in a plastic package from a local grocery store.
Jackfruit is an exotic tropical fruit with a subtle sweet flavor that is consumed in many parts of the world. It can be eaten in a variety of ways. It is part of the Moraceae plant family, which also includes fig, mulberry and breadfruit. Jackfruit has a spiky outer skin and is green or yellow in color.
Jackfruit is quite healthy. It provides a moderate amount of calories in addition to lots of fiber, vitamins, minerals and antioxidants. It has a low glycemic index and provides some fiber, protein and antioxidants, all of which may promote better blood sugar control. The antioxidants may be helpful for preventing the development of several chronic diseases, such as heart disease and diabetes.
There are several potential health benefits of jackfruit that have been reported anecdotally but have not been proven by scientific evidence. Jackfruit is quite versatile. It can be eaten raw, cooked, ripe or unripe and tastes great in a variety of sweet and savory dishes.
So far I have cooked burgers, burritos and pasta with it, and of course this wonderful jackfruit stew. Which I believe would be the best introduction to this fruit.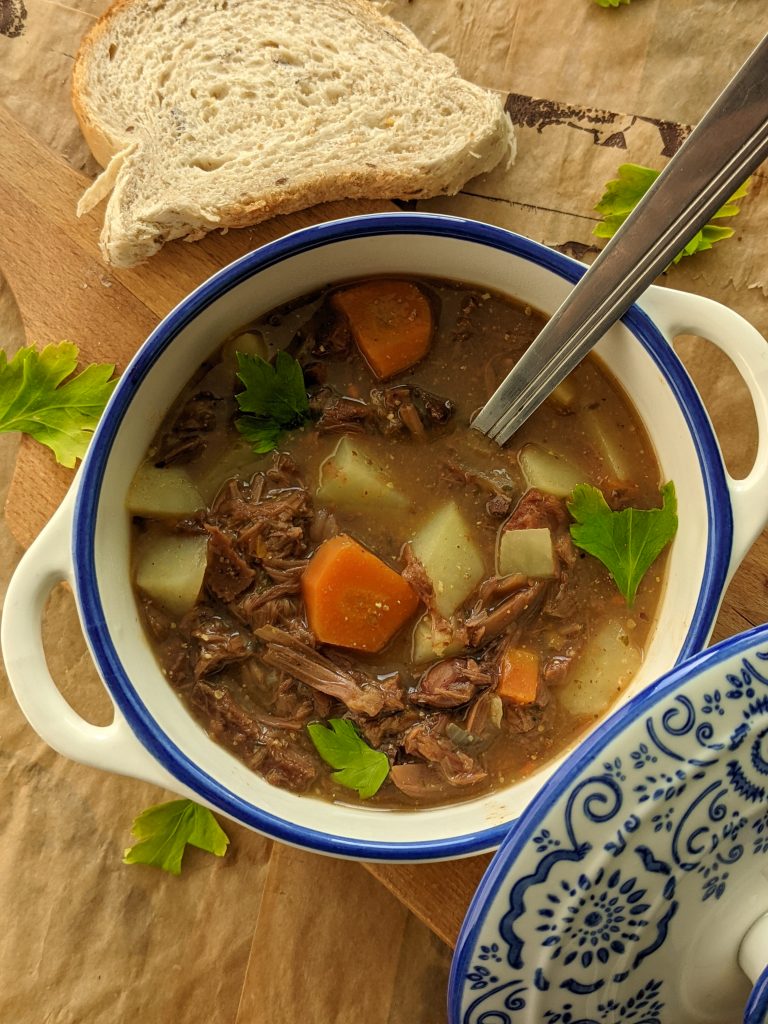 A piece of advice
This is a super easy recipe as you can see from the instructions below. However, I am still going to write down a few things that are going to be helpful.
First of all, I would suggest you use a low sodium veggie stock. Don't forget to try the stew before you serve it to check if it needs more seasoning.
The purpose of a flax meal is the thickening of the stew. But if you don't have any you can just mash the potato with a fork or a masher after it is cooked to get a thicker stew. If you do add the flax egg, just let the stew sit there for a few minutes to thicken a bit.
I could not eat all of this at once, so I left some in the pot, reheated it and had it again the next day. These measurements make about 3 to 4 portions of vegan jackfruit stew.
Serve it while it is still warm, with a piece of bread or toast.
Jackfruit stew
Ingredients
200 g of jackfruit

1 small onion

1 medium size potato

1 large carrot

1 l of veggie stock

½ tsp of pepper

4 tsp of smoked paprika

1 tsp of oregano

1 tsp of chili powder

two pinches of cumin

a splash of water

a pinch of salt

parsley

1 tbsp of ground flax seeds + 3 tbsp of water
Directions
Chop the carrot and the onion and peel the potato and cut it into small cubes. If the jackfruit you bought came in large pieces, pull it into smaller ones or mash it with a potato masher.
Heat the stove to medium heat. Put the chopped onion, a splash of water and a pinch of salt in a large pot. Sautee the onions for a few minutes. Add the chopped carrot and cook it for another minute.
Add all the spices and the jackfruit and mix everything. Pour the veggie stock in the pot and bring it to a simmer. Cover with a lid and let it cook for about 40 minutes. Try the stew to see if it needs more seasoning. After that mix in the diced potato and the flax egg (flax seeds and water) and cook for another 15 minutes, or until the potato is fork tender.
Remove from the stove and let it cool down and thicken a bit. These measurements make about 3 to 4 portions of jackfruit stew.
If you liked this recipe, make sure you check out my other recipes like:
– vegan meatballs in butternut sauce
Feel free to tell me what you think about this in the comments below, or send me the pictures of your own vegan jackfruit stew. If you did something differently, I would also like to hear that, I'd love to see the things you come up with.
P.S. for more recipes like this and a bunch of other stuff, follow me on Instagram, @margo_drobi.
Also, I recently started a Patreon page, where you can subscribe and help me create more/better content. In return, you will get an exclusive piece of content (recipe) each month. My plan is to increase the amount of that content if I gain a few subscribers. If you are interested and you want to find out more, I will leave the link to my Patreon right – here.
And that would be all for today. If you are using Pinterest make sure to follow me on there, and feel free to pin this image: