Eggplant roll-ups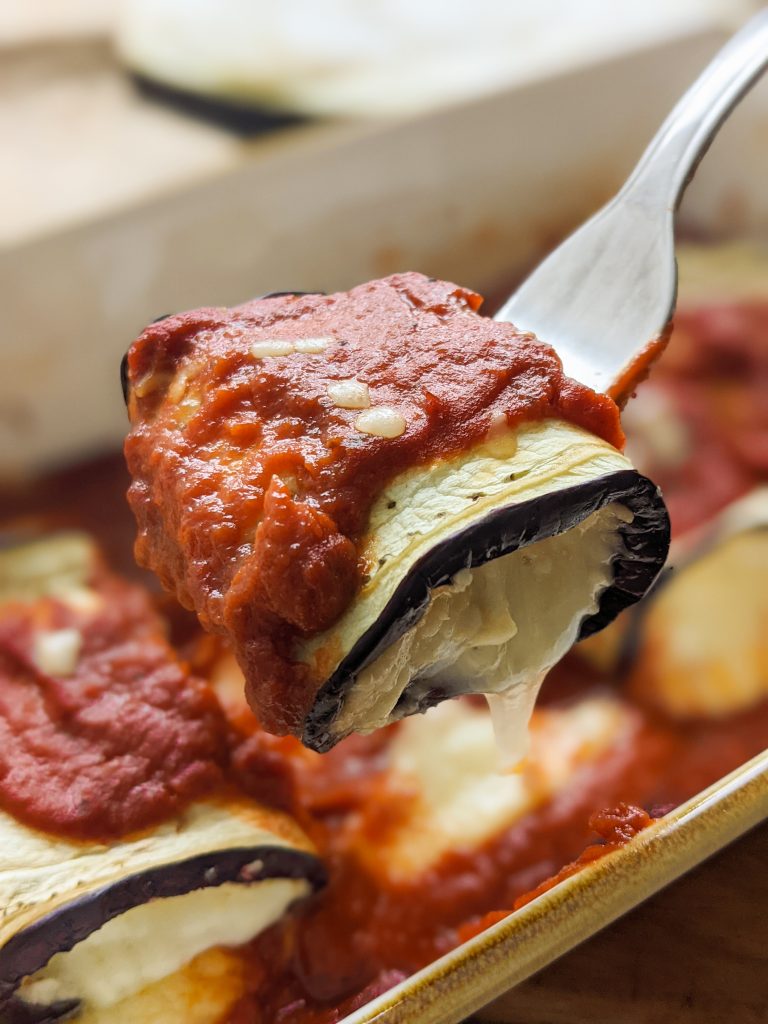 Since people seemed to like my zucchini roll-ups recipe, I started thinking about other ways to make this dish. Eggplant roll-ups are equaly simple to make and also very delicious. I'd say that this recipe is even easier than the zucchini one.
The general idea is the same, these are veggie roll-ups with vegan cheese in tomato sauce, however, I changed the filling for this one and I ended up loving it. It is also easier to cut up the eggplants, and to roll them up.
This recipe is super easy and quick to make. Other than that, it can be very good for you because of its healthy ingredients and it is also super delicious.
Some health benefits
I have written about this before, but it doesn't hurt to repeat the lesson. There are quite a few reasons why you should make this dish, or any dish that has eggplant in it.
Eggplant provides a good amount of fiber, vitamins and minerals in few calories. They are high in anthocyanins, a pigment with antioxidant properties that can protect against cellular damage.
Some animal studies have found that eggplants may improve heart function and reduce LDL cholesterol and triglyceride levels, though human research is needed. They can help promote weight loss. It can also be used in place of higher-calorie ingredients.
Eggplants contain solasodine rhamnosyl glycosides, which test-tube studies indicate may aid in cancer treatment.
I think that these are some pretty good reasons to try and include eggplant into your meals every now and then. And if you are short on ideas, why not start with these wonderful eggplant roll-ups? If that is not something you would like, there are a few more recipes on this blog that include this vegetable.
Hummus provides a wide variety of vitamins and minerals. It is also a great plant-based source of protein, which makes it a nutritious option for vegans and vegetarians. It contains chickpeas, olive oil and sesame seeds (tahini), which are proven to have anti-inflammatory properties. Hummus is a great source of fiber, which can help keep you regular. Additionally, chickpea fiber may promote the growth of healthy gut bacteria, which produce butyrate — a type of fatty acid that helps nourish cells in the gut.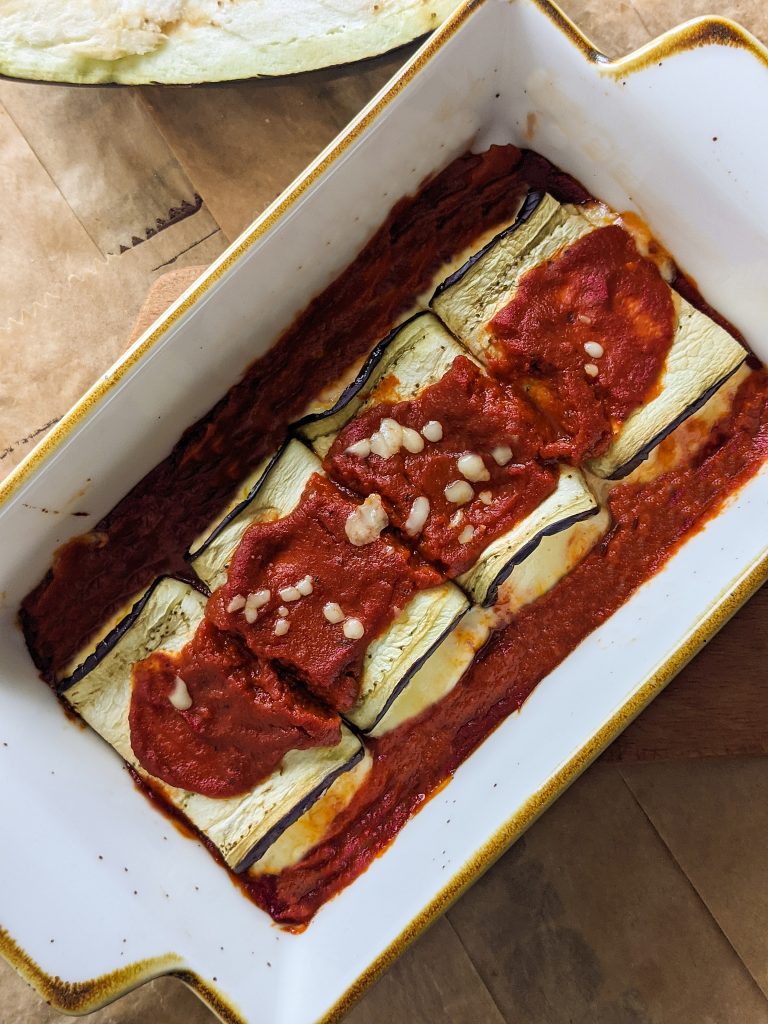 A piece of advice
The recipe is very simple and quick, but as always, I am going to mention a few things that might help you along the way, especially if you are a beginner.
I suggest you buy medium sized eggplants that are not very curvy, so you can cut them easier. When you bake the eggplant slices they should be soft enough to roll up. So do a little test when you take them out of the oven. Do not try to bend them while they are still raw, you will only break them that way.
Spread the tomato sauce on the bottom of a baking dish. You need just enough to cover it, no need for the roll-ups to swim in the sauce.
Try to find a brand of vegan cheese that melts if you can. But if you cannot purchase vegan cheese, you can get creative with the filling. There are a bunch of easy vegan (ricotta) cheese recipes to be found online. You can also improvise and add some veggies. I wanted to top my eggplant roll-ups with some fresh basil and vegan parmesan, but I could not find any.
Before you roll them up, put the vegan cheese in a small heap on one end of the eggplant slice. Hold it in place with your fingers and then start rolling.
These measurements are enough for 2 people. I made a small amount as you can see in the pictures, because I cooked only for myself that day. If you need more, make sure you adjust the measurements accordingly.
Eggplant roll-ups
Ingredients
2 medium sized eggplants

200 g of vegan cheese

4 heaping tbsp of hummus

1 tsp of lemon juice

Tomato sauce

Pepper
Directions
Wash the eggplants and cut them thinly (lenghtwise). Place a sheet of parchment paper on a baking tray and place the eggplant slices on it. Heat the oven to 220 degrees Celsius and bake them for 15 minutes. At this point you should be able to roll them up easily. Take them out of the oven and let them cool down.
Grate the vegan cheese. In a small bowl mix the hummus and the lemon juice. Take a baking dish and cover the bottom with tomato sauce. Take each slice of eggplant and spread the hummus/lemon juice mix on it. Take some vegan cheese and put it on one end of the slice. Roll the slice up beginning from the part with the cheese on it.
Put each roll in the baking dish and top them off with some more tomato sauce and a few shakes of pepper. Heat the oven to 190 degrees Celsius and bake for about 20 minutes.
Take them out of the oven and serve while they are still warm. These measurements are enough for 2 portions of eggplant roll-ups.
If you liked this recipe, make sure you check out my other recipes like:
– vegan broccoli mustard pizza
Feel free to tell me what you think about this in the comments below, or send me the pictures of your own vegan eggplant roll-ups. If you did something differently, I would also like to hear that, I'd love to see the things you come up with.
P.S. for more recipes like this and a bunch of other stuff, follow me on Instagram, @margo_drobi.
Also, I recently started a Patreon page, where you can subscribe and help me create more/better content. In return, you will get an exclusive piece of content (recipe) each month. My plan is to increase the amount of that content if I gain a few subscribers. If you are interested and you want to find out more, I will leave the link to my Patreon right – here.