Matcha raspberry dream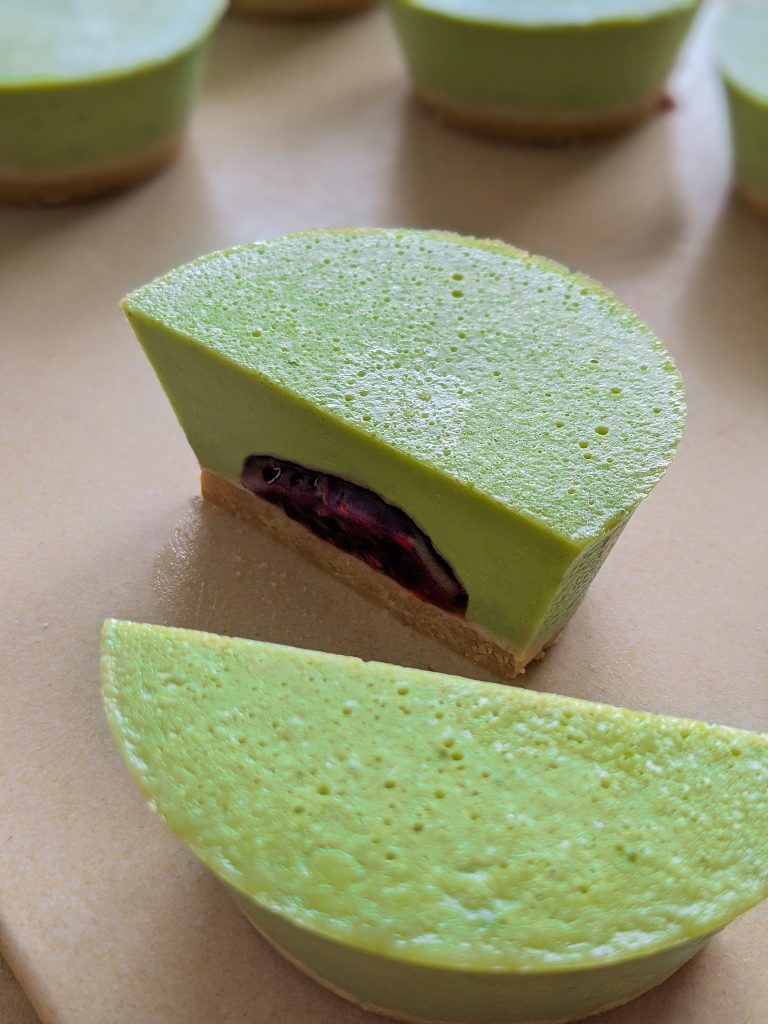 This is in my opinion the best cake I created myself so far. That might change in time, and if it does I will let you know, but right now I am excited to share this matcha raspberry dream recipe with you.

It turns out that some great recipes can be created from the ingredients you have lying around the kitchen. And this is one of those cases. I don't usually eat Oreos but I received a box from a friend, and I had a few teaspoons of matcha and cocoa butter left. When everything was done, I ended up with 9 small matcha cakes.

The combination of the creamy matcha layer, sweet Oreo crust and raspberry jam center makes this dessert absolutely delightful. Even if you are not a huge fan of matcha, the taste in this cake is very subtle. And the recipe is very easy so anyone can make it.

There are quite a few things that I made with matcha, but this is by far my favorite. And aside from being super delicious, this cake might also be very good for you. As always, I am about to tell you why that is the case. Today I am going to write down a few things about my favorite drink – matcha tea.

Some health benefits

Matcha contains a concentrated amount of antioxidants, which may reduce cell damage and prevent chronic disease. Some studies have shown that matcha could prevent liver damage and decrease the risk of liver disease. However, additional studies are needed to look at the effects on humans in the general population.

Matcha has been shown to improve attention, memory, and reaction time. It also contains caffeine and L-theanine, which can improve several aspects of brain function. Studies show that green tea and matcha can decrease several heart disease risk factors. Some also show that green tea extract helps increase metabolism and fat burning, both of which may aid weight loss.

These are only a few reasons you should try and incorporate some matcha into your diet. I use it in cakes, sometimes I drink matcha latte's or just as plain tea in the morning.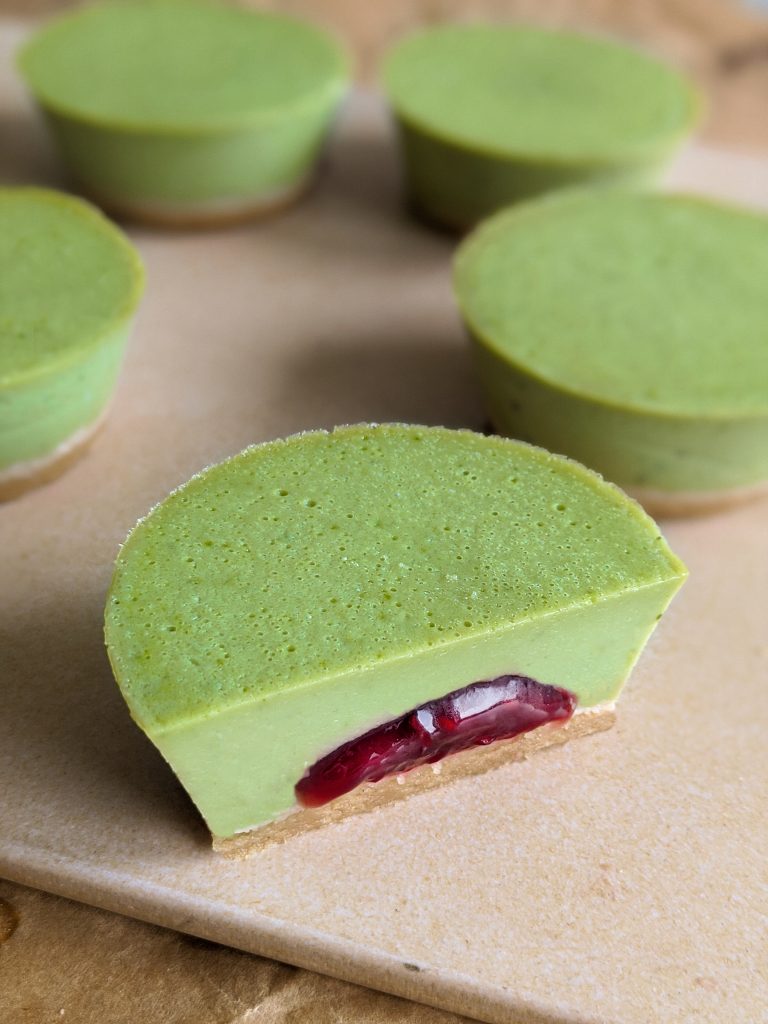 A piece of advice

I know I said that this recipe is super easy, but I will write down a few tips and tricks anyways, to make it even easier for you.

First of all, you don't have to use golden Oreos for this one. You can pick any cookie that you like. If you do choose Oreos, make sure you remove the filling first and then weigh them. You only need the cookie part.

You can also make your own jam, and if you are not sure how to make it, I will leave the link for my lemon blueberry jam cake right – here. For this instance, I used store bought raspberry jam. Just scoop out one teaspoon and place it in the center of the cookie crust. Make sure it stays in the center so you can close it off with matcha cream.

If you are willing to experiment, you can use a different type of jam, for example, blueberry. I haven't tried any other version yet, but If you do, please let me know how it went.

If you are using larger cake moulds you can increase the jam amount accordingly. When you take off the matcha cream from the stove, pour it carefully and slowly around the jam part and then on top of it.
Let the cakes cool completely before putting them in the fridge. I suggest you use silicone moulds so you can pop them out easily.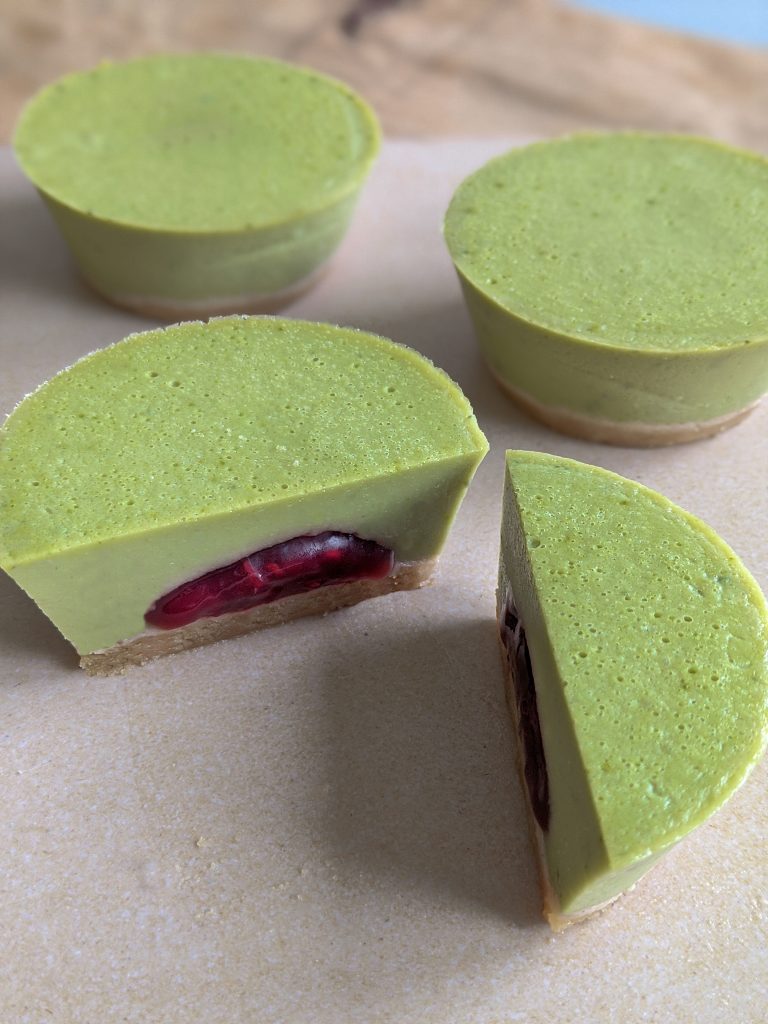 Ingredients

For the cream:

750 ml of full fat coconut milk
60 g of sugar
3 tbsp of cocoa butter
3 tbsp of cornstarch (dissolved in a little bit of water)
1 1/2 tsp of agar agar
2 tsp of matcha powder
1 tsp of vanilla sugar
Raspberry jam

For the crust:

115 g of golden Oreo cookies (filling removed)
75 g of margarine (melted)

Instructions

Remove all the filling from your Oreo cookies. Put them in the blender and blend until there are no chunks left. Melt the margarine and add it to the ground cookies. Mix the two together.

Scoop out a heaping tablespoon of the cookie crust and place it in each silicone mould. Press it down with your fingers to form a crust. Leave the moulds in the fridge while you make the cream.

Put the coconut milk, sugar, starch, vanilla sugar, cocoa butter, matcha and agar-agar in a saucepan and mix over medium heat until the cocoa butter has melted.

Bring the mixture to a boil and let it boil for 2-3 minutes. Take the cream off the stove and take the moulds out of the fridge.

Scoop out a heaping teaspoon of raspberry jam and place it in the middle of each crust. Carefully pour the matcha cream mixture around the jam and then over it.

Let it cool completely. Put the cake in the refrigerator overnight.

If you liked this recipe, make sure you check out my other recipes like:

– vegan lemon cakes with blueberry jam

Feel free to tell me what you think about this in the comments below, or send me the pictures of your own matcha raspberry dream. If you did something differently, I would also like to hear that, I'd love to see the things you come up with.

P.S. for more recipes like this and a bunch of other stuff, follow me on instagram, @margo_drobi.

Also, I recently started a Patreon page, where you can subscribe and help me create more/better content. In return, you will get an exclusive piece of content (recipe) each month. My plan is to increase the amount of that content if I gain a few subscribers. If you are interested and you want to find out more, I will leave the link to my Patreon right – here.