Vegan pancake cereal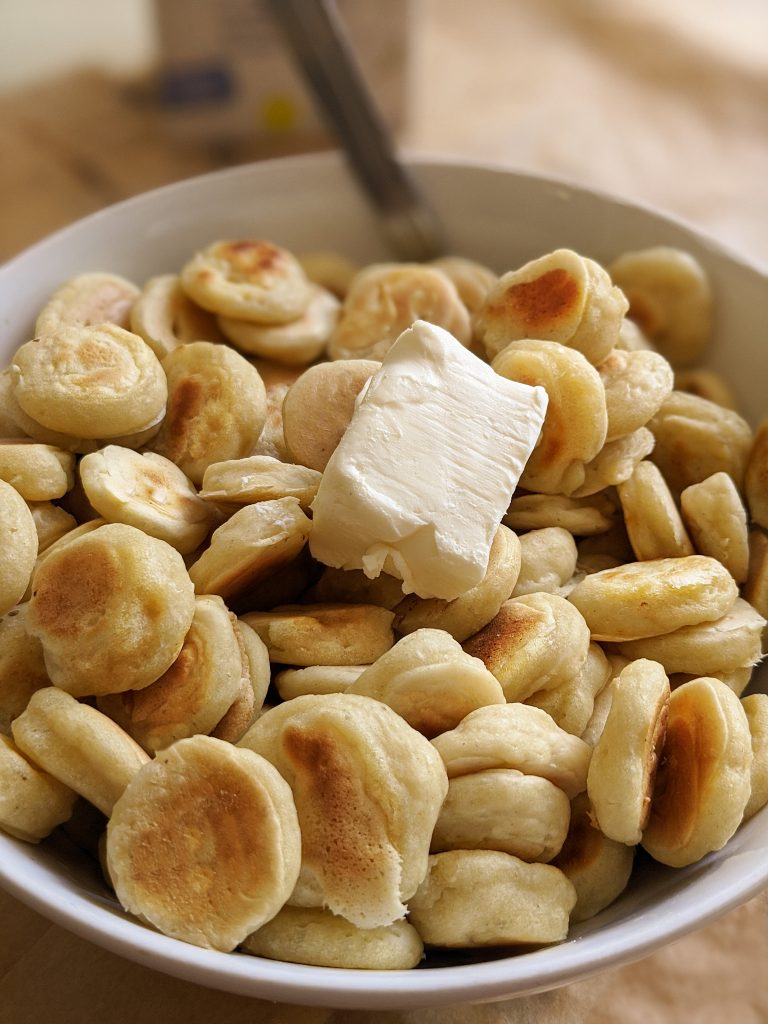 About ten days ago I noticed this pancake cereal trend on instagram, and apparently it started on TikTok. I do not enjoy that app but this really caught my attention, mainly because it looks very cute. Someone said they are actually a dish from Netherlands and that they are called poffertjes, and I found out that it is quite similar. So I decided to give it a go and make vegan pancake cereal over the weekend.
While I do enjoy pancakes occasionally, they are not my go to breakfast. Mainly because I don't have much time in the morning to make them and I am also trying to reduce my flour and sugar intake. And while I usually opt out for a healthier breakfast I do have my go to pancake recipe. One of these days I am going to write it down here.
I tought it would be best if I use that recipe for vegan pancake cereal, but then again, since it takes a bit of time to cook these, I decided to create a much easier version. As you can see in the ingredient list, you only need four basic ingredients, and you probably already have them in your pantry. When it comes to milk and toppings, you can experiment. I for example ate them with some almond milk and fresh strawberries.
While this may not be your go to meal every morning, I must admit, it is very delicious and it looks super cute. It is like a whole new way of eating pancakes (for me at least), and I am sure this would be especially fun and interesting for kids, so I might make them for my niece one of these days.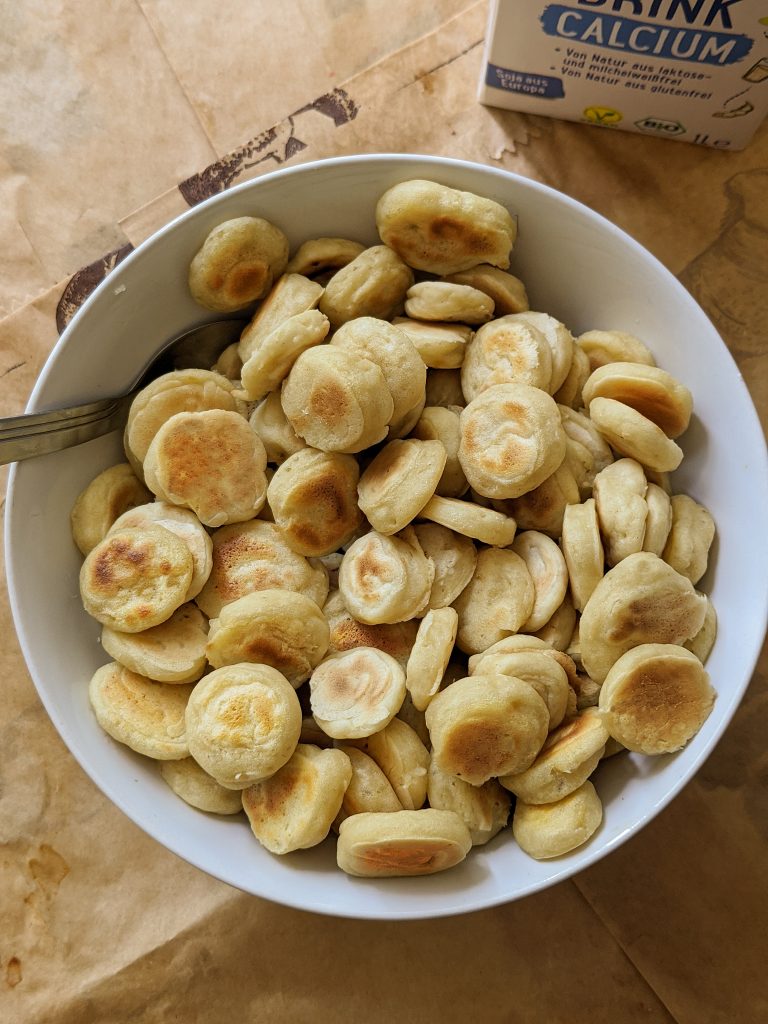 A piece of advice
There are only four ingredients in this recipe and it is very simple, but there are still a few things I have to mention here. Firs of all, like with all pancakes, make sure you heat your non-stick pan properly. In this case I used this frosting syringe that you usually use for cake decorating, since I had one with a very small hole at the top. So I squeezed out very small portions of batter on the heated pan.
However, if you don't have anything like that, you can also use a medium sized plastic ziplock bag. Just pour the batter in the bag and cut a very small hole in the bottom corner. But I mean very small, as small as you can, otherwise you will have more batter pouring out than you need.
Try to squeeze out about five to eight mini pancakes in the beginning by doing a little swirling motion. Only flip them when you see bubbles appear at the top. This should not take too long, in some cases not even 30 seconds, because they are really small. If your pan is too hot and you squeeze out a lot of tiny pancakes in, you might risk burning them, since they need only a few moments to cook. And while you are busy squeezing them out, the first ones might begin to burn. So be careful with this, try to cook only a few at a time.
I used a teaspoon to flip these, but you can use anything that works for you. But do not use your fingers, you might burn yourself.
Today is a holiday in my country, so I am pretty much in a food coma while I am writing this. I ate so much sweet and greasy food I think I am going to burst. But I was able to get together with my family which is great. Life is slowly returning to normal and I couldn't be happier. One of these days I am going to head back to the gym and sweat off whatever I got along the way in these past two months.
I hope everyone is doing good, and your life is returning to normal as well. So without further ado, enjoy the recipe. Bon appetit!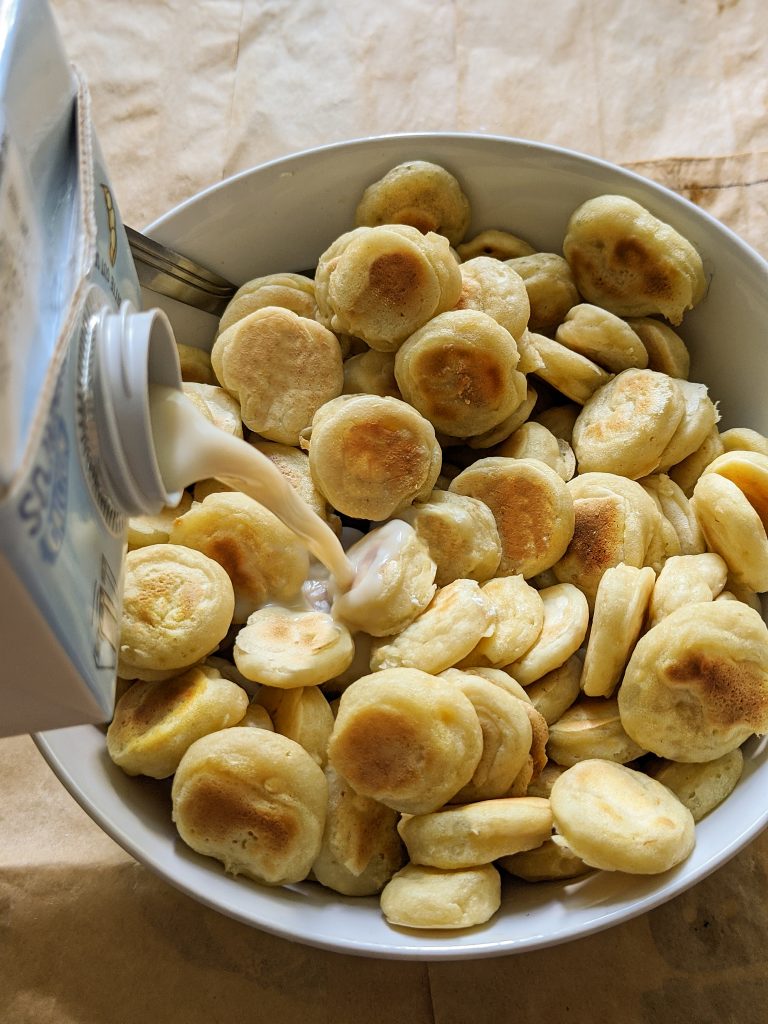 Ingredients
300 g of all purpose flour
410 ml of plant based milk
1 tsp of baking soda
1 tsp of baking powder
Instructions
Put the flour, baking soda and baking powder in a big bowl and mix well. Add the plant based milk and mix (try not to overmix it, it's better to just combine it).
Heat a non-stick pan on medium heat. Put the pancake batter in a syringe with a small hole at the top (I used the one you use for frosting). You can also put it in a plastic ziplock bag and poke a very small hole in the bottom corner. Squeeze out small portions of batter in the pan (as big as you want your cereal to be) by doing a little swirling motion.
When you see bubbles appear at the top, flip each tiny pancake and cook for about 30 seconds.
Put your vegan pancake cereal in a bowl and eat them with some plant based milk, maple syrup, fruit or anything you prefer.
If you liked this recipe, make sure you check out my other recipes like:
– vegan three ingredient blondies
– vegan red velvet mini cheesecakes
Feel free to tell me what you think about this in the comments below, or send me the pictures of your own vegan pancake cereal. If you did something differently, I would also like to hear that, I'd love to see the things you come up with.
P.S. for more recipes like this and bunch of other stuff, follow me on instagram, @margo_drobi.
Also, I recently started a Patreon page, where you can subscribe and help me create more/better content. In return, you will get an exclusive piece of content (recipe) each month. My plan is to increase the amount of that content if I gain a few subscribers. If you are interested and you want to find out more, I will leave the link to my Patreon right – here.