Vegan cinnamon rolls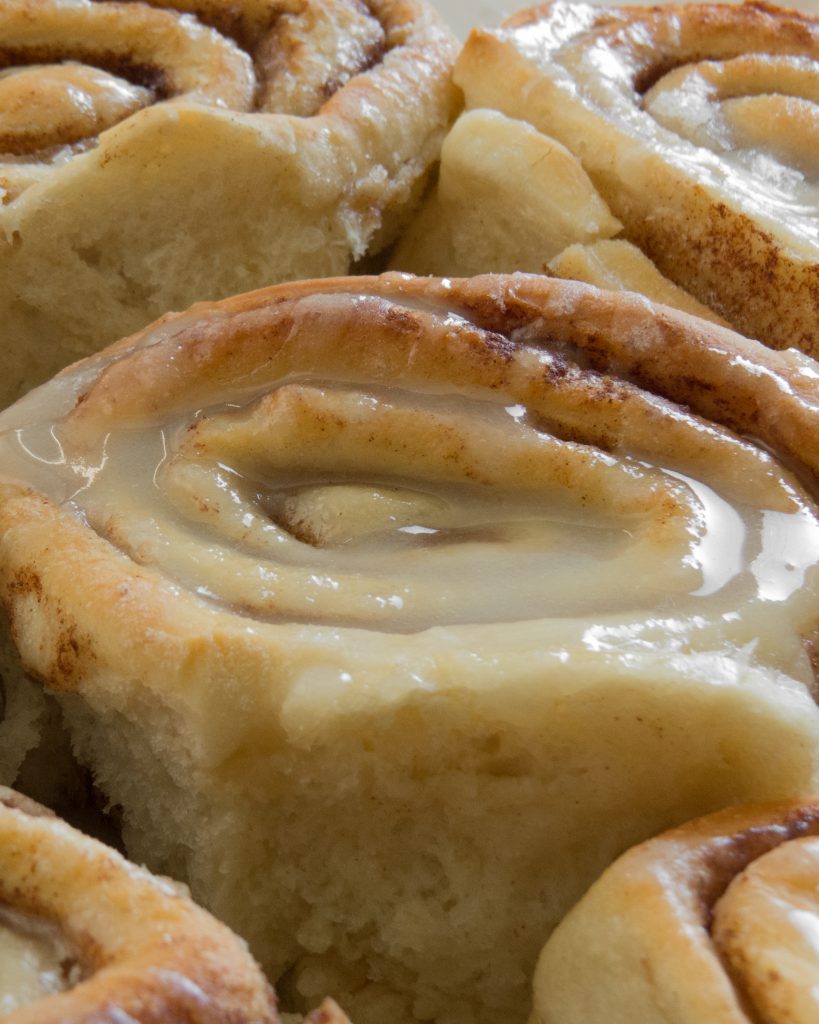 Recently I mentioned that I am going to experiment with bread or croissant recipes (or any type of dough). I really wanted to try and make vegan croissants, but then I realized that it would take me a lot of time to figure it out (which I don't have currently). But there's one dough that I am really good with, and today I am going to share that recipe with you. These are probably the best vegan cinnamon rolls you ever had.
Ever since I was a kid I used to drool over perfect looking cinnamon buns/rolls on tv. We did not have them in my country back then, and my mom did not make these, so I tought you need some special ingredients to make them (silly me). Later on I found out they were very simple. So when I started traveling as a teenager I always made sure to find them in a bakery (wasn't much of a cook back then).
When I went vegan four or five years ago, I sure tought cinnamon rolls were the thing I will miss the most. Luckily for me, the internet was flooded with great recipes, and I had the chance to try out a lot of vegan cinnamon rolls versions.
Some were amazing, some a bit strange, but there was only one that would stick, and today I am writing it down for you.
What's the secret?
As you can tell by looking at the ingredient list, this recipe does not requrie much. It is super simple, and I really believe anyone can make it. You need some basics like all purpose flour, yeast, plant based milk, vegan margarine and some sugar and cinnamon.
There's a strong chance you already have all of these ingredients in your pantry. But the real reason why these are so good is, I believe, in the filling and in the order in which you mix the dough ingredients. These cinnamon rolls are so sweet, soft and buttery, you just can't get enough of them. I tought it was just me, but later on I was told that there's no difference in the taste of these and the original ones.
You are going to spend a bit of time by waiting on the dough to rise, but other than that, you will be done in no time. Don't miss out on these just because you hate to wait for a bit. It's totally worth it.
A few more things
This is the part where I give you a few tips and tricks to make it easier for you, but today I really don't have a lot to say here. I would just mention that you don't have to buy almond milk, you can use any plant based milk that you desire (or that you have at home), just make sure that it is the right temperature.
If you prefer brown sugar, I think that can work too, and you can also top the vegan cinnamon rolls off with some more cinnamon. It is up to you.
I also used disposable aluminum baking tins because I found that the rolls get baked evenly and quickly in those. I am sure you can also use any other baking tray that you have, but these got me the best results and they are really cheap. If you live in the Balkans and you don't know where to buy them, just send me a message.
In other news, my country is slowly coming out of the lockdown and I might get a haircut very soon. I also have to get back to the office one of these days, so I will use some of the free time that I have just to try and figure out how to make vegan crossaints. But really good ones. If my research succeeds, you will be the first to know.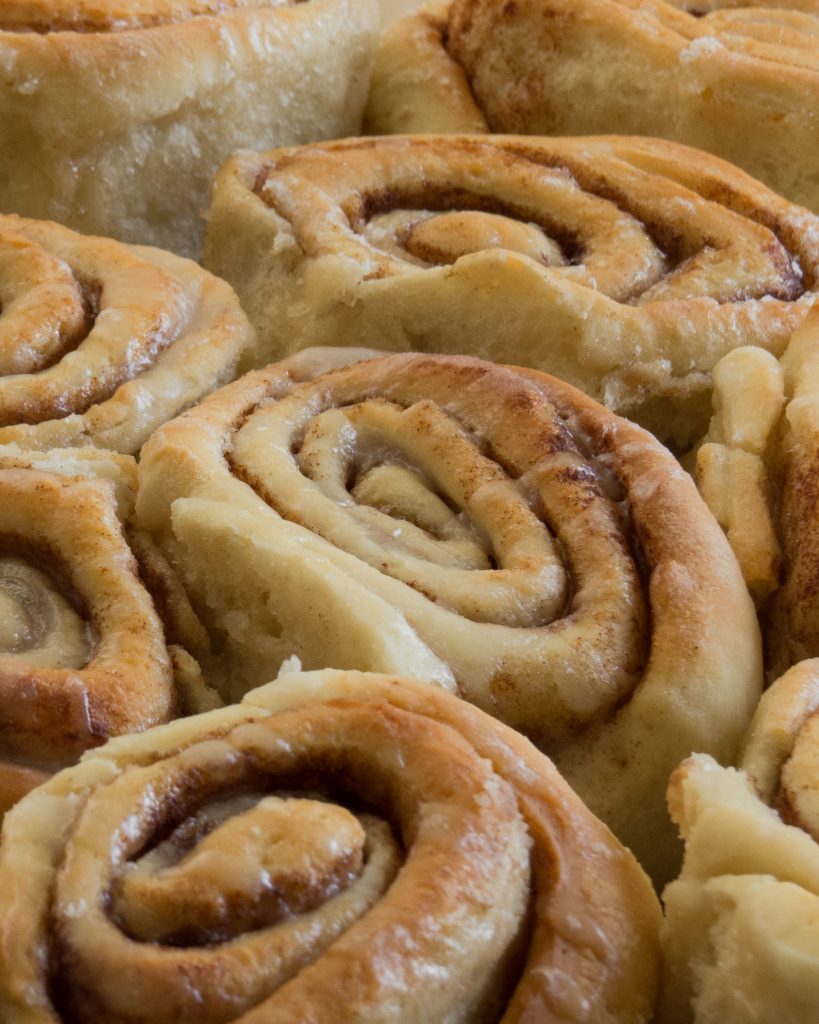 Ingredients
For the dough:
480 ml of almond milk (room temperature)
115 g of vegan margarine
60 g of sugar
1 packet of active dry yeast
700 g of all purpose flour
For the filling:
170 g of vegan margarine
165 g of sugar
2 tablespoons of cinnamon
*2 disposable aluminum tins for baking
For the icing:
160 g of powdered sugar
2 tablespoons of almond milk
1/2 teaspoon of vanilla extract
Instructions
Melt the vegan margarine and mix in the milk, and sugar. The mixture should only be warm and not hot. Sprinkle the yeast evenly over the mixture and allow it to sit for 1 minute. Add the mixture to 650 g of flour and mix until all the ingredients are combined.
Cover the bowl and let the mix rise for 1 hour in a warm spot. Add the other 50 g of flour and mix. Put the dough on a well floured flat surface and knead. Add more flour until the dough has lost its stickiness. Roll the dough into a rectangular shape.
Spread softened vegan margarine over the dough and sprinkle with cinnamon and sugar evenly. Roll the dough in a log, cut off the irregular ends and cut the dough into 14 pieces. Grease two aluminum pans with margarine and place 7 pieces in each.
Cover the aluminum pans and leave them for a half an hour to rise. Bake for 25 minutes at 180 degrees Celsius. Mix all the ingredients for the icing and spread over the rolls after they have cooled.
If you liked this recipe, make sure you check out my other recipes like:
Feel free to tell me what you think about this in the comments below, or send me the pictures of your own vegan cinnamon rolls. If you did something differently, I would also like to hear that, I'd love to see the things you come up with.
P.S. for more recipes like this and bunch of other stuff, follow me on instagram, @margo_drobi.
Also, I recently started a Patreon page, where you can subscribe and help me create more/better content. In return, you will get an exclusive piece of content (recipe) each month. My plan is to increase the amount of that content if I gain a few subscribers. If you are interested and you want to find out more, I will leave the link to my Patreon right – here.